Other Treasures Still Inside the Books
Many books in the History of Medicine collection still have their original bindings with paper and vellum bits of discarded books still in place. They are used as spine linings, endpapers, and board covers. Others may still have boards made up of pasted layers of printed or manuscript paper. We can only speculate about the treasures that may lie still hidden from view.

Johann Zwelfer. Königliche Apothek, oder Dispensatorium. Nürnberg.
(Nürnberg: Martin Endters, 1692). NLM call no. WZ 250 Z98pG 1692.
The cover, pasted over boards, is a late medieval vellum leaf, a legal text with commentary written around it in smaller script. The two conjoined leaves were precisely positioned so that the space between the leaves provided a blank space on the spine.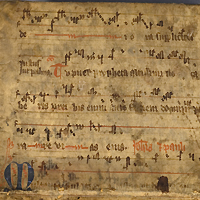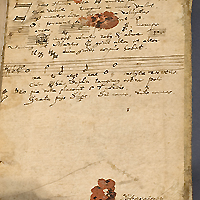 Caspar Bauhin. Institutiones anatomicae corporis virilis et muliebris historiam exhibentes.
(Lyon: Joannes le Preux, 1604). NLM call no. WZ 250 B346dco 1604.
The cover is a late medieval vellum manuscript of chant written in German-style notation. Note the later shelving mark near the top of the cover: "anatom. 32". Inside the back cover is more music entitled "Aenigma musica" [musical puzzle], perhaps written by the book's owner, Johann Roesner, pastor in Rosenbach, who died in 1609, according to a note on the front endpage. Perhaps he was a music lover who deliberately chose the covers.

Joseph Priestley. Memoirs of Dr. Joseph Priestley.
(Northumberland [Pa.]: John Binns, 1806). NLM call no. WZ 270 P949m 1806.
Scrap paper was still being used in the 19th century. This binding, which is much later than the book, has its spine lined with newspaper. A binder's label inside provides the name "A. Zichtl, 513 7th St. N.W.", possibly a Washington, D.C. address.

Galen. Peri hugieinon biblia hex.
(Basel: Balthasar Lasius, 1538). NLM call no. WZ 240 G153dsa 1538.
The wrapper is a vellum leaf written in gothic script. A bit of it shows through where the pastedowns have worn away. The covers have been heavily painted over, but some of the manuscript, especially the letters in red ink, still shows through faintly.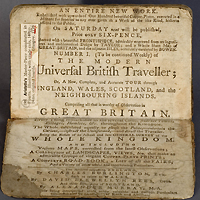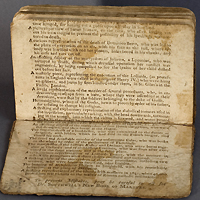 Aristotle's Masterpiece.
(London: Sold by the Booksellers, 1776). NLM call no. WZ 160 A718m 1776.
This scruffy little book in its worn cardboard covers, one of the most frequently re-printed books of the 18th-Century, uses booksellers' ads for endpages: a travel guide to Great Britain and "Dr. Southwell's New Book of Martyrs," probably the one printed in London around 1780.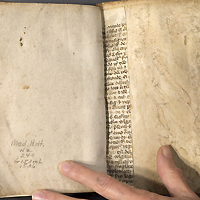 Galen. Methodus medendi.
(Paris: Claudus Chevallon, 1526). NLM call no. WZ 240 G153mL 1526.
Strips of a medieval vellum manuscript are used to attach the textblock to the covers.

Jacques Daran. Composition du remede.
(Paris: Didot, 1779). NLM call no. WZ 260 D217r 1779.
The paper cover is a leaf from a printed book of the 1690s, the text apparently a legal argument, with a sheet of blue paper covering it on the outside.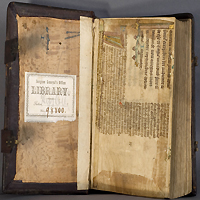 Hippocrates. Opera quae apud nos extant omnia.
(Paris: Guillard + Desbois, 1546). NLM call no. WZ 240 H667L 1546a.
The original binding, wooden boards covered with tooled leather, makes use of a vellum manuscript as endpages. The manuscript has text in the center, commentary around it, and has a lovely gold illuminated intitial letter and decorative border.