Dorothy M. Schullian and Her Bathtub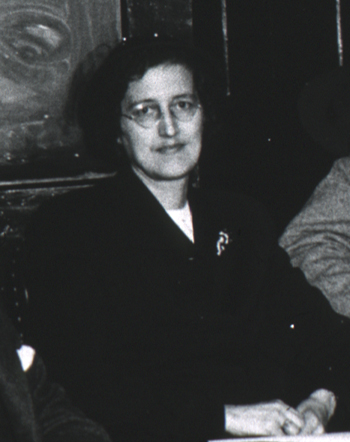 Dorothy M. Schullian
"Slowly and ploddingly, especially where they had been glued together to form the linings of covers, I have soaked them apart in my bathtub. My knees, I assure you, have suffered, but I have entered a bibliographer's paradise ..."
(Dorothy M. Schullian. "Here the Frailest Leaves" Papers of the Bibliographical Society of America, 47 (1953))
Dorothy M. Schullian was a Classics scholar with a doctorate in Latin from University of Chicago. She taught at Western Reserve and Albion College in Michigan before joining the National Library of Medicine staff in 1944 as curator of the rare book collection. She was a learned and meticulous scholar, with knowledge of a wide range of subjects as well as medical history. Her chief legacies are A Catalogue of Incunabula and Manuscripts in the Army Medical Library, published in 1950 - and the Bathtub Collection.
Though she did not consider many of the intact bindings worth preserving, she was aware of the interest and value of the materials from which they were made. When the books were rebound in the bindery, instead of discarding the old covers, Dr. Schullian, took them home, soaked them in her bathtub to loosen the paste and separate the layers of paper or parchment, hung them up to dry, and placed them in envelopes, labeled with information about the volume from which they were removed. The History of Medicine Division staff came to refer to them as the "Bathtub Collection," both a tribute to Dr. Schullian's labors and a mark of affection for this eccentric assemblage.
Dorothy Schullian wrote an article on the collection entitled, "Here the Frailest Leaves," which appeared in the journal, Papers of the Bibliographical Society of America, 1953 v. 47, no. 3, pp. 201-217.