Cultural Revolution Era: Politically Charged Images
Families of Two Children before the One-Child Policy of 1978
Family Planning for the Revolution
为革命实行计划生育
Created by Cong Zhiyuan 丛志远; published by Jiangsu People's Publisher, 1975
The image promotes a family of two children, displaying their happy life—education of the children and work of the parents.
Family Planning Has Many Advantages
计划生育好处多
Produced by the Family Planning Leadership Office of Jilin Province, n.d., circa 1975
Poster shows a two-children family focusing on work, production, study, and good health.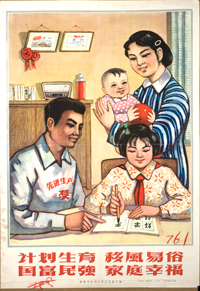 Family Planning, Social Transformation, Rich Country and Strong People, Happy Family
计划生育, 移风易俗,
国富民强, 家庭幸福
Produced by the Family Planning Office of Nanchang; created by Wu Shihua 吴世华 and Yu Yuanjin 余园金, printed by Jiangxi Printing Company, n.d., circa 1975, 20,000 copies
The poster shows a happy family of two children. The father helps his daughter with her studies while the mother takes care of the baby.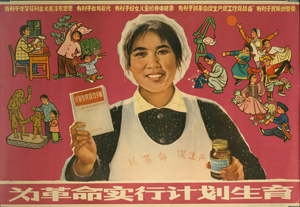 为革命实行计划生育
Carry out family planning for the revolution.
Published by Shanghai People's Publisher, and printed by Shanghai Number One Printing Factory, March 1974
The poster images promote the advantages of family planning: good for studying Marxism and Mao Zedong Thought, good for educating the next generation, good for the health of women and children, good for work production and preparation for famine and war, and good for the national prosperity.