Medical Education
In the nineteenth century, an admission card was necessary for attendance in medical, pharmacy and dental schools; the student paid for the course in advance and received the card duly signed by the professor. Such cards, frequently including images of college buildings or coats of arms, at times carry the signatures of well-known physicians; the matriculation ticket for William P. Vail for the Rutgers Medical Faculty in 1827-8 was signed by Valentine Mott (1785-1865), a pioneer in vascular surgery. Diplomas and certificates for graduation or for course attendance often included engravings of medical scenes. A handsome example of such a certificate is that given to one William Mathias (not shown) in 1816 certifying his attendance at a course given at the London Hospital. It is signed by two surgeons and a physician and is surmounted by an engraving of the hospital in the background, with Christ and his disciples in the foreground.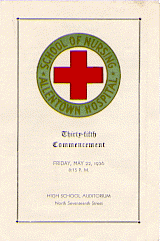 Allentown Hospital,
School of Nursing. Thirty Fifth Commencement...,
color folder,
Allentown, PA, 1936,
16.3 x 10.7 cm.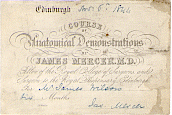 Course of Anatomical Demonstration of James Mercer, M.D.,
admission card,
Edinburgh, Scotland, 1844,
7.3 x 11.5 cm.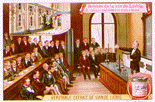 Veritable Extrait de Viande Liebig,
Scènes de la vie de Liebig,
color lithograph trade card,
n.p., c. 1885,
7 x 10 cm.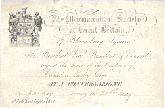 The Pharmaceutical Society of Great Britain,
invitation to a conversazione,
England, c. 1885,
11.1 x 16.8 cm.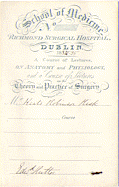 School of Medicine, Richmond Surgical Hospital...,
admission card,
Dublin, Ireland, 1834,
15.7 x 9.9 cm.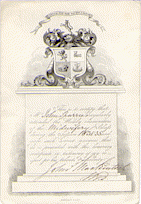 This is to certify that John Spurrier regularly attended the weekly examinations of the Midwifery class...,
engraved certificate,
England, 1834,
17.3 x 11.7 cm.