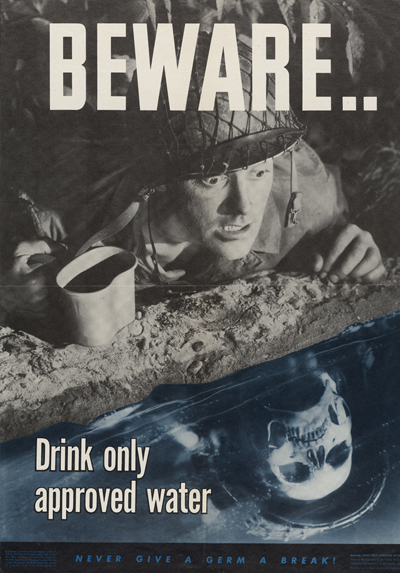 Beware… Drink only approved water. Never give a germ a break!
Photomontage. War Department, United States, 1944.
Photomechanical print: color; 36 x 51 cm.
A soldier, about to drink from a microbe-infested jungle stream, is surprised to see in the reflection his face transformed into a figure of death.

Ali si zdrav? (Are you healthy?)
Golnik, Slovenia, Yugoslavia, 1950s. Photomechanical print: color; 42 x 60 cm.
An outlined figure in red fuses with a shadowy skeletal x-ray, in front of a swarming crowd. The caption reads: "You get reliable answers if you are examined by x-ray (fluorography). The Institute for Tuberculosis (Golnik) provides examinations." The poster was produced for a nation-wide campaign to mass screen for tuberculosis through x-ray.