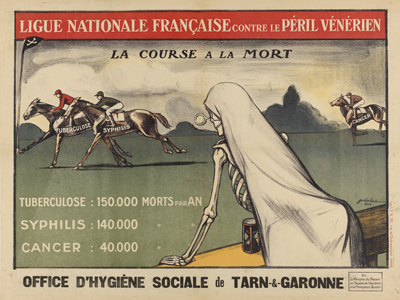 La course a la mort.
(The race with death.)
Ligue Nationale Française contre le Peril Vénérién, France, ca. 1926.
Color lithograph; reproduction of a pastel drawing; 69 x 88 cm.
Artist: Charles Emmanuel Jodelet (1883-1969).
Death watches a thoroughbred race of deadly diseases. The statistics below compare the annual mortality rates of tuberculosis, syphilis and cancer.

Endangers You: Discover the Unknown Spreaders!
National Tuberculosis Association, United States, ca. 1940.
Photomechanical print: color; 28 x 39 cm.
A father reads the newspaper in his armchair as his happy family gathers round — oblivious to the dangers of contagious tuberculosis carried by the dense mass of people behind them.
Reprinted with permission ©2007 American Lung Association. For information about the American Lung Association or to support the work it does, call 1-800-LUNG-USA (1-800-586-4872) or log on to http://www.lungusa.org.