1949-1976: NLM Indexer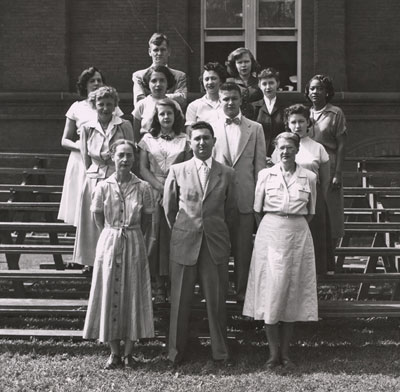 Taken only a year or so after
he joined the Army Medical Library's indexing staff,
Stanley is at the far left in the back row. c.1950.
Slavic medical bibliographies, 1945-1954 (1955)
A project of Mr. Jablonski's own conception, it covers ten years of medical works published in Slavic countries. It was published as part of a series of bibliographies produced by the Armed Forces Medical Library.
Meditsinskata bibliografiia; v pomoshch [sic] na nauchnite rabotnitsi. Medical bibliography; an aid for scientific workers (1956)
Russian-English medical dictionary (1958)
Russian surgical staplers (1961)
"The purpose of this bibliography is to focus attention on new and interesting developments in the field of surgical technics…" from preface.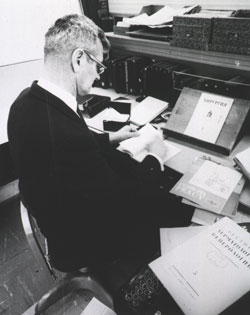 Mr. Jablonski on a typical day at work.
See the LocatorPlus catalog record
Russian drug index (1961, 1967)
A work essential to the understanding of Russian pharmacology, it provides the public name of drugs as they appear in Russian literature and their complementary synonyms as they appear in western literature. The second edition added 1,200 main entries and 3,700 cross-referenced synonyms.
Illustrated dictionary of eponymic syndromes and diseases and their synonyms (1969)
According to Clifford A. Bachrach, former head of BSD, "It is a work distinguished for its completeness and clarity. It is a valuable reference source for classical descriptions of disease."
"The biomedical information explosion" in American Journal of Medical Genetics (1971)
"The preconstructed vocabulary: a procrustean bed" in Bulletin of the Medical Library Association (1973)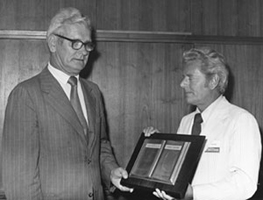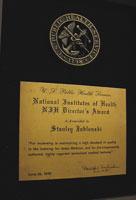 John P. McGovern, M.D., NLM Board of Regents member, presents the NLM Regents Award for Scholarly or Technical Achievement to Stanley Jablonski, November 11, 1971.
The languages that Stanley Jablonski understood and could index:
Polish, Russian, Czech, Slovak, Bulgarian, Slovenian, Serbo-Croatian, French, Spanish, Italian.