1976-2004: Retirement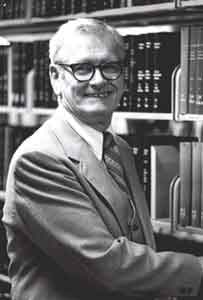 Taken in NLM's stacks a few years after his retirement.
Index to dental literature (1982)
The index is divided into two sections: subject index and name section, both of which follow the page format of the Index Medicus. Citations are to journal articles and articles generated in symposia and proceedings.
Illustrated dictionary of dentistry, 2 editions (1982, 1992)
This volume gathered in one place all terminologies of dentistry and its allied fields. Some peripheral terms were included for their potential interest as well as terms of etymological and historical interest. The second edition, entitled Jablonski's dictionary of dentistry, was published with additional material in 1992.
Dictionary of medical acronyms and abbreviations, 5 editions (1987, 1993, 1998, 2001, 2005)
According to Book Info, it is a "standard reference work for libraries, students, physicians, and all health care professionals." The second edition added more than 2,000 entries. The third edition added 5,000 entries and the fourth edition had 10,000 more. The fifth edition, which has not yet been acquired by the Library, contains a CD-ROM and has 10,000 new entries.
Illustrated dictionary of syndromes and eponymic diseases, 2nd edition (Dictionary of eponymic syndromes) (1991)
Revisions were based on 20 years of articles researched through MEDLARS. Criteria for selection was a reasonably frequent occurrence in medical literature.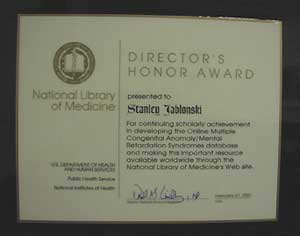 For his continuing work in medical scholarship and his generosity with the MCA/MR database,
Mr. Jablonski was honored by the Library in 2001.
"Syndrome – le mot de jour" in Bulletin of the Medical Library Association (1991)
"Syndrome – a changing concept" in Bulletin of the Medical Library Association (1992)
Rx shorthand (1996)
A Latin-English and English-Latin list of abbreviations, this volume provides definitions for terminology used by physicians in writing prescriptions. It contains references to current and historical terminology.

Multiple Congenital Anomaly/Mental Retardation Syndromes (MCA/MR) – on NLM website (1999)
Contains about 700 of the 1600-2000 known syndromes of congenital anomalies. In order to produce this information as a database on the web, Stanley relinquished his copyright on the material and forfeited any future royalties.
Cardiology acronyms and abbreviations (2003)
Intended to be a guide for health care professionals, medical transcriptionists and medical editors, this work attempts to provide up to date information on cardiology acronyms derived from clinical trials and investigational studies.
Understanding cholesterol and its role in coronary heart disease (2004 – uncompleted)
Mr. Jablonski was inspired to research and produce this work because his wife, Lucille, suffered from high cholesterol.
Displaying a sly sense of humor, Stanley slipped these two imaginary syndromes into the second edition of his Dictionary of eponymic syndromes. See "Stanley J" syndrome in the open edition below.