---
---

The National Institute of Health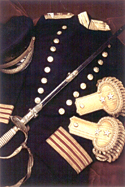 The regalia of Hugh S. Cumming, Surgeon General from 1920 to 1936, during whose term the Hygienic Laboratory became the National Institute of Health.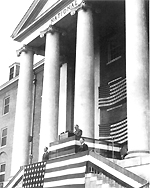 President Roosevelt dedicates an NIH building in 1940.
The Hygienic Laboratory had moved in 1891 from Staten Island, New York, to Washington, D.C., where it would remain until its move in 1938 to its present location in Bethesda, Maryland. The winter of 1928-1929 found the U.S. in the grip of the worst outbreak of influenza since the 1918 pandemic and no progress made on fighting the disease. Memories of this occurrence were fresh when, on May 26, 1930, the Ransdell Act changed the name of the Hygienic Laboratory to the National Institute of Health, authorized building construction money and created a system of fellowships. The organization was still part of the Bureau of the Public Health Service, Treasury Department. (The term 'Bureau' comes from the Napoleonic custom of having separate pieces of furniture, called 'bureaus,' to sort the mail and keep the files of different government offices. Hence, it would be said an organization's incoming mail was 'in the bureau of the Public Health Service.')
---
NIH research began in 1931, discovering fluoride effective enough to prevent tooth decay. Successful scientific investigations lead to the discovery and eventual downfall of a number of diseases which were prevalent at the time but are now forgotten. Undulant fever, pellagra and psittacosis were diseases conquered by NIH research. Researchers often contracted the diseases they studied.
Bunting from President Roosevelt's dedication ceremony.