Youth in New York
Bacterial Genetics
Computers in Biomedical Research
Public Service
Credits
Bacterial Genetics: 1946-58
Lederberg in the laboratory
at the University of Wisconsin, October 1958.
His inquisitiveness, facility for establishing connections between scientific disciplines, and grasp of institutional strategy led Joshua Lederberg to the forefront of successive advances in science: molecular genetics in the 1940s and 1950s; the search for extraterrestrial life in the 1950s and 1960s; computers and artificial intelligence in the 1960s and 1970s. His discoveries in genetics produced a deeper understanding not only of the biochemical mechanism of inheritance and mutation in microorganisms, but of the evolution of diseases, the causes of drug resistance, and the possibilities of genetic engineering and gene therapy.
---
This widely-used college textbook reiterated the scientific consensus of the 1920s and 1930s that in the reproduction of bacteria and other simple organisms, "no sexual process has thus far been made known" (see p. 580), a consensus Lederberg set out to revise.
---
In a series of innovative experiments conducted in the laboratory of his doctoral adviser Edward L. Tatum at Yale University during the summer of 1946, Lederberg demonstrated that strains of the bacterium Escherichia coli could inherit traits from parent strains through the recombination of their DNA. In his laboratory notes Lederberg used plus and minus signs to mark the ability or inability of various strains of E. coli to metabolize different nutrients, an inherited trait. Note Lederberg's declamation, "hooray," at the occurrence of an expected result.
---
This article announced Lederberg's and Tatum's finding that bacteria are complex organisms that have distinct sexual characteristics and canreproduce through a process of genetic recombination. This conclusionoverturned the prevailing assumption that bacteria reproduced solelythrough the asexual process of cell division.
With his graduate student Norton Zinder Lederberg later also found that viruses that infect bacteria are capable of extracting genetic material from their hosts and carrying it into other hosts. This form of genetic exchange among bacteria by means of bacterial viruses, which Lederberg termed viral transduction, suggested that DNA could be deliberately manipulated and reconfigured, and thus provided the basis of genetic engineering.
Click here to view the full article.
---
The Nobel Foundation cited Lederberg, at age 33, for "his discoveries concerning genetic recombination and the organization of the genetic material of bacteria." He shared the prize with Edward L. Tatum and George W. Beadle.
---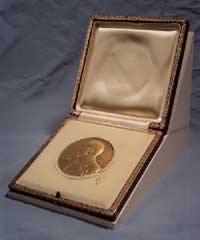 Nobel Prize medal, 1958. Original at the Rockefeller Archives Center.

View the extensive Lederberg papers on Profiles in Science.