HISTORY as Inspiration
By the turn of the twentieth century, the American Medical Association had mostly succeeded in winning its struggle for legitimacy and the medical profession was reorganizing under the banner of modern science. At this juncture, medical history became a means of preserving the best of traditional values at a time of rapid change.
New forms of medical education promoted the research ideal and clearly represented the new scientific spirit in medicine. But the increased emphasis on the "science" of the profession created anxieties among some practitioners and professors that the humanistic side of medical care would be lost. Medicine would cease being an art and a calling, becoming instead merely a technical discipline.
At Johns Hopkins University, professor of medicine William Osler, the beloved teacher and "Chief", used his passion for old books to inspire students with the virtues of history. Osler taught his students to model themselves on the exemplary lives of the great physicians of the past who embodied clinical wisdom and the values of courage, dedication, and empathy. Osler and his followers used history to celebrate the highest ideals of a scientific, yet sensitive and selfless, profession.
This photograph taken in the pharmacology lab at the University of Pennsylvania Medical School in the 1920s shows medical students intently at work on their experiments. By this time, American medical education had been drastically overhauled, with a new focus on "hands on" science and rigorous demonstration.
Pharmacology laboratory
ca. 1920s
Photograph

Courtesy of the Collections of the University of Pennsylvania Archives
The Medical School of the University of Michigan was one of the leaders in the scientific reform of medical education. The University of Michigan also encouraged coeducation in the training of male and female medical students.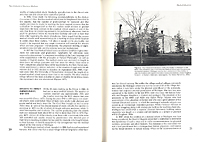 James Bordley, III, M.D., and A. McGehee Harvey, M.D.
Two Centuries of American Medicine 1776-1976
Philadelphia, 1976
NLM Call Number: WZ 70 AA1 B6t 1976, pages 20-21
Copyright 1976, Reprinted with permission from Elsevier Science
Book
The historical essay on "Medical Lore in the Older English Dramatists" had first been presented to the Historical Club of the Johns Hopkins Hospital. Prominently published here in one of the most esteemed scientific medical journals of the time, it illustrates the high regard historical studies had attained for the medical leaders of the day.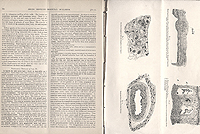 Robert Fletcher
The Bulletin of the Johns Hopkins Hospital, Vol. 5, 1895. p. 72-73.
NLM Call Number: W1 BU854F
Journal
This is the first American medical history source book, designed for study and teaching purposes. It was published by Charles N.B. Camac, one of Osler's former house officers who went on to a career at Cornell Medial School and Columbia University's College of Physicians and Surgeons.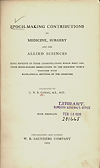 Charles N.B. Camac, M.D. (1868-1940)
Epoch-Making Contributions to Medicine, Surgery and the Allied Sciences, being reprints of those communications which first conveyed epoch-making observations to the scientific world, together with biographical sketches of the observers
Philadelphia, 1909
NLM Call Number: WZ 40 C172e 1909, Title Page
Book
This is the published version of notes taken by Joseph H. Pratt when he was a clinical clerk on Osler's service during his medical education at Johns Hopkins. Pratt later taught at the medical schools of Harvard and Tufts universities. Here he gives a vivid eye-witness account of Osler's method of clinically-integrated historical instruction.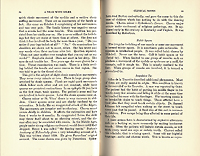 Joseph H. Pratt (1872-1956)
A Year with Osler 1896-1897: Notes taken at his Clinics in The Johns Hopkins Hospital
Baltimore, 1949
NLM Call Number: WZ 100 O82p 1949, pages 34-35
Book
In this article, noted surgeon Lewis Pilcher describes medical history, in Osler's spirit, as "an antitoxin for medical commercialism." Pilcher served as editor of Annals of Surgery, America's leading surgical journal, from 1885 to 1934.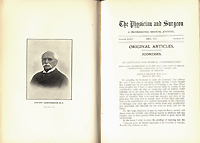 The Physician and Surgeon, Vol. 34, No. 4, 1912. p. 144-145
NLM Call Number: W1 PH773T
Journal
Osler collected in this popular volume his previously published biographical and inspirational essays on Sir Thomas Browne, William Harvey, John Locke, and several favorite subjects. Many had originally been read at the Historical Club of the Johns Hopkins Hospital.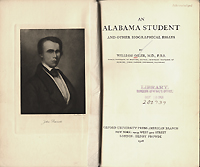 William Osler (1849-1919)
An Alabama Student and Other Biographical Essays
New York, 1909
NLM Call Number: WZ 112 O82a 1908, Title Page
Book
Cushing won the Pulitzer Prize for this meticulous and loving biography.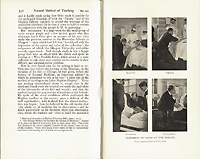 Harvey Cushing (1869-1939)
The Life of Sir William Osler, Volume 1
Oxford, 1925
NLM Call Number: WZ 100 O82Cu 1925, Pages 552-553
Book
The first volume of the first major medical history journal published in the United States. Packard and the majority of associate editors were Osler's well-placed American friends, former students, or former colleagues.

Francis R. Packard, M.D., editor
Annals of Medical History, Vol. 1, 1917. Title Page
NLM Call Number: W1 AN61G
Journal
Cushing (1869-1939) had been William Osler's junior colleague at Johns Hopkins University before moving on to a distinguished career at Harvard and Yale.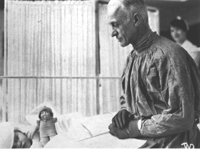 Dr. Harvey Cushing and a young patient
1928
Prints and Photographs Call Number: Portrait no. 2
Photographic reproduction
Max Brödel (1870-1941)
The Saint-Johns Hopkins Hospital
1896
Prints and Photographs Call Number: Portrait no. 5136.21
Photographic reproduction of a drawing in the Max Brödel Archives, Department of Art as Applied to Medicine, Johns Hopkins Medical Institutions
Sir William Osler seated at desk
Prints and Photographs Call Number: Portrait no. 5136.23
Photographic reproduction
All four medical luminaries were active members of the Historical Club of the Johns Hopkins Hospital.
Johns Hopkins Hospital: Harvey Cushing, Howard Kelly, William Osler, and William S. Thayer (seated in front)
ca. 1900
Prints and Photographs Call Number: Portrait no. Group 55-1
Photographic reproduction