HISTORY as Politics
The Great Depression of the 1930s led to the organization of the unemployed, the increasing power of American labor, and the resurgence of the political left. Within medical circles, proposals or "socialized medicine" and national health insurance, the development of prepaid medical care experiments, and the establishment of Blue Cross health insurance plans all signaled a radical questioning of the traditional organization of private medical practice.
A generation of politically active and idealistic young physicians, looking for visionary leadership, found inspiration in the work and ideas of Henry E. Sigerist. Swept up in enthusiasm by the political currents of that turbulent decade, Sigerist presented history as a dynamic force moving inevitably toward a utopian and egalitarian future. He proposed that physicians, as the vanguard of a progressive movement for health and social justice, be the organizers of a new system of medical care for all the people.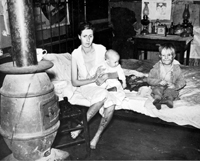 United Features Syndicate.
Mother with an infant and a toddler sit on an unmade bed
United States
NLM Prints and Photographs Call Number: WA 11 C29 no. 199
Photoprint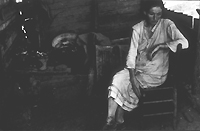 Shabbily dressed pregnant woman sits in crude shelter
NLM Prints and Photographs Call Number: WA 11 C29 no. 220
Photoprint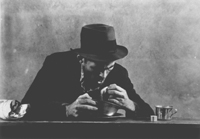 Man eating from a tin bowl
NLM Prints and Photographs Call Number: WA 11 C29 no. 198
Photoprint
"1944" is an editorial cartoon marking the alliance between the United States and the USSR as the two powers join forces to squeeze Hitler.

Photographic reproduction

Courtesy of Walter Lear
A grand synthesis first presented in 1940 as the Messenger Lectures at Cornell University, Sigerist begins with two chapters on the material and economic determinants of disease in which he highlights, among other factors, the importance of the physical environment.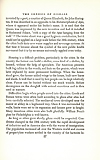 Henry E. Sigerist, M.D. (1891-1957)
Civilization and Disease
Ithaca, New York, 1943
NLM Call Number: WZ 9 S576c 1943, Page 37
Book
Delivered in 1938 as the Terry Lectures at Yale University, this compact work contains some of Sigerist's clearest statements about all citizens' right to health.
Henry E. Sigerist, M.D. (1891-1957)
Medicine and Human Welfare
New Haven, 1941
NLM Call Number: WZ 40 S574m 1941, Pages 94-95
Book
A pioneering medical editor, publisher, and historian, Robinson created the journal Medical Life which in the 1920s had several European scholarly luminaries on its editorial board, including Henry E. Sigerist. Robinson took political risks in his historical and editorial work and later drew praise from Sigerist as "a fighter and reformer, interested in a number of subjects that were not looked upon as orthodox."

Victor Robinson, M.D. (1886-1947)
NLM Prints and Photographs Call Number: Portrait no. 5755
Photograph
Two of Robinson's early, politically daring historical publications.
Victor Robinson, M.D. (1886-1947)
An Essay on Hasheesh: Historical and Experimental
New York, 1925
NLM Call Number: QV 80 R665e 1925, Cover
Book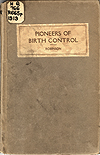 Victor Robinson, M.D. (1886-1947)
Pioneers of Birth Control in England and America
New York, 1919
NLM Call Number: HQ 766 R665p 1919, Cover
Book
Rosen first contacted Sigerist in the 1930s when, as an American medical student studying in Germany, he was looking for a medicohistorical thesis topic. On his return to the United States, Rosen became a prolific historical scholar, publishing a steady stream of articles in the Bulletin of the History of Medicine as well as an impressive number of books and monographs, such as this one on miners' diseases. Rosen later held a series of prominent positions at Columbia and Yale universities in public health and health education and in the history of medicine.
George Rosen, M.D. (1910-1977), with an introduction by Henry E. Sigerist, M.D.
The History of Miners' Diseases: A Medical and Social Interpretation
New York, 1943
NLM Call Number: WA 11 R813h 1943, Page 172
Book