Medical Subject Headings
Biographical Sketch, Chris Hui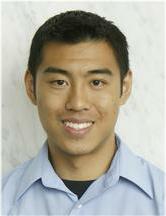 Title:

Technical Information Specialist

Office:

National Library of Medicine
National Institutes of Health
Bldg. 1DEM, Room 202
6701 Democracy Blvd
Bethesda, MD 20892 USA
Telephone:
(301) 301-435-8693 (voice)
(301) 402-2002 (fax)

Electronic mail:
Chris Hui joined the Medical Subject Headings Section in July 2009. Chris received a B.S. in Cellular Biology and Molecular Genetics from the University of Maryland in 2006 and has plans to pursue an advanced degree in the near future.
Prior to joining the Medical Subject Headings Section, Chris worked at the Law Library of Congress in Washington, D.C. He came to NLM in 2008 as a Library Technician for the Cataloging Section.