"FRANKENSTEIN" Coming to the National Institutes of Health
---
"FRANKENSTEIN" Coming to the National Institutes of Health; Exhibit will examine folklore surrounding scientific discoveries and celebrate the promise of medical research
(BETHESDA, MD)-- On Thursday, October 30, 1997, the National Library of Medicine at the National Institutes of Health (NIH) promises a frightfully good time as it celebrates the opening of a new exhibit, "Frankenstein: Penetrating the Secrets of Nature." An exhibit preview and masquerade will take place from 5:30 - 7:30 p.m. in the Library's Rotunda (first floor of the National Library of Medicine or Building 38, 8600 Rockville Pike, corner of Center Drive/Jones Bridge Rd., Bethesda, MD).
"This thought-provoking exhibit is both timely and timeless," explained NLM Director Donald A.B. Lindberg, M.D. "On Halloween eve, its theme is entirely appropriate, of course. But this exhibit explores some of the fundamental questions of all time," Dr. Lindberg explained. "Why has the public at times feared science? Have changes in communication technology made the public feel close to the center of decision-making regarding science policy? If so, has this allayed their fear of science?"
The exhibit will feature artifacts associated with resuscitating the nearly dead from the early nineteenth century, early efforts at blood transfusion, experiments conducted with "animal electricity," and other attempts to reanimate dead bodies. Other parts of the exhibition include posters and pacemakers, masks and monsters, comics and cartoons, books and brains, all illustrating the ways in which people have coped with their desires, hopes, and fears of medical science.
"Frankenstein, the tale of a young man of science who creates a monster by animating human flesh, represents an enduring myth that has gripped our imaginations for almost two hundred years," said Elizabeth Fee, Ph.D., Chief of NLM's History of Medicine Division. "This exhibition provides a serious historical examination of the many meanings of the Frankenstein legend. It starts with Mary Shelley's rational but tragic creature who searches vainly for human companionship and explores the different meanings of the celluloid monster of 1930s Hollywood and its continuing echoes in popular culture. We also see this exhibition as an opportunity to recognize some of the social, ethical, and philosophical concerns raised by such scientific endeavors as cloning, xenografting, the Human Genome Project, and other new developments in biomedicine."
Susan E. Lederer, Ph.D., Visiting Curator of the exhibition, noted, "Unlike Mary Shelley's day when access to medical and scientific knowledge was limited to a wealthy and educated elite, today we have unparalleled access to such information through institutions like the National Library of Medicine, through the popular media, and through the World Wide Web. The challenge is how to navigate this ocean of information to educate ourselves about new developments in biomedical science in order to make responsible decisions." As Mary Shelley long ago explained, we must like Prometheus, "use knowledge as a weapon to defeat evil, by leading mankind, beyond the state where they are sinless through ignorance, to that in which they are virtuous by wisdom."
In addition to the exhibition, the Library will host a film series featuring five Frankenstein films (Frankenstein, Bride of Frankenstein, Curse of Frankenstein, Young Frankenstein, Mary Shelley's Frankenstein) which will be introduced with brief presentations by scholars, scientists, and film critics. The series will run on five consecutive Thursday evenings beginning November 6, 1997.
Press interested in a tour of the exhibit prior to the opening reception may contact the Public Information Office at (301)496-6308 or email: frankenstein@nlm.nih.gov.
"Frankenstein -- Penetrating The Secrets of Nature" can be viewed at the Library Monday Friday, 9:00 a.m. - 5:00 p.m. (With extended hours Thursday, till 9:00 p.m.), and Saturday 8:30 a.m. - 12:30 p.m. The exhibit will run through August 15, 1998.
---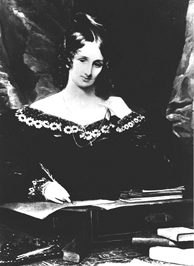 1.
Mary Wollstonecraft Shelley (1797-1851)

Artist: Samuel John Stump (ca. 1783-1863)

Mary Shelley was just 19 years old and the unmarried mother of two
children when she experienced her "waking dream" about a pale student
and the monster he creates, a dream that would become her first novel
Frankenstein.

Photographic reproduction of an oil painting
Phtograph courtesy of Corbis-Bettmann
---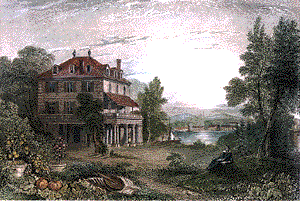 2.
Diodati, The Residence of Lord Byron

Artist: W. Purser

During the summer of 1816, Lord Byron rented
a villa on the shores of Lake Geneva in
Switzerland. Here he proposed the famous
ghost-story competition that prompted Mary
Shelley to conceive Frankenstein.

Photographic reproduction of a 1933 steel engraving
Photograph courtesy of The Granger Collection, New York
---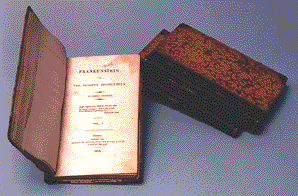 3.
Frankenstein; or, The Modern Prometheus

(published: London, 1818)
Author: Mary Shelley (1797-1851)

The London publisher Lackington issued the novel, which
appeared without Mary Shelley's name, in three volumes.
Most novel sales at the time were made to private lending
libraries, which circulated their books among fee-paying
customers. Thus, a novel printed in three parts could be
loaned to three different patrons.

Photograph courtesy of the Department of Special Collections,
University of Pennsylvania Libraries
---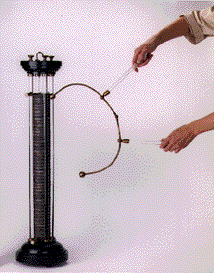 4.
Voltaic Pile, French (?), ca. 19th century

In 1800 Alessandro Volta described the voltaic pile. Constructed
of alternating discs of zinc and copper, with pieces of cardboard
soaked in brine between the metals, the pile produced electrical
current. The metallic conducting arc was used to carry the electricity
over a greater distance.

The Bakken (lender)
Photograph courtesy of the National Library of Medicine
---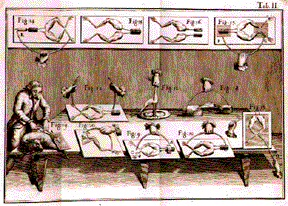 5.
Illustration from De Viribus Electricitatis in Motu Musculari

(published: Modena, 1742)
Author: Luigi Galvani (1737-1798)

Electricity excited much wonder in the eighteenth century.
Italian physician Luigi Galvani described the "constant and
wonderful phenomenon" of the frog's remote contraction in his
studies of animal electricity.

Photograph courtesy of the National Library of Medicine
---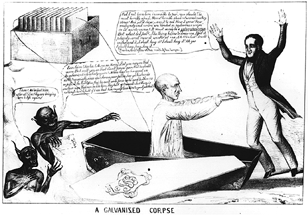 6.
A Galvanized Corpse

Artist: Henry R. Robinson

Galvanism captured popular attention on both sides of the
Atlantic. In this 1836 American political cartoon, Jacksonian
newspaper editor Francis Preston Blair rises from the grave
after receiving a jolt from a galvanic battery.

Photographic reproduction of a lithograph
Photograph courtesy of Library of Congress, Prints & Photographs Division
---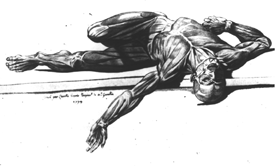 7.
Anatomical illustration from Nouveau Recueil d'osteologie et de Myologie

(published: Toulouse, 1779)
Author: Jacques Gamelin (1739-1803)
Artist unknown
Photographic reproduction of an illustration National Library of Medicine
---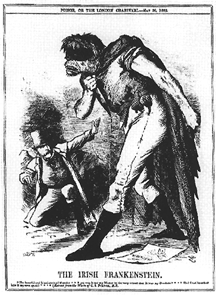 8.
"The Irish Frankenstein"

Artist: John Tenniel

British illustrator Sir John Tenniel produced more than 2,000
cartoons for the popular journal Punch, as well as illustrations
for Lewis Carroll's Alice in Wonderland. In this cartoon Tenniel
depicts Charles Stewart Parnell, a leader of the Irish nationalist
movement, as the "Irish Frankenstein." Equating Parnell's efforts
on behalf of Irish home rule with the uncontrollable blood lust of
the Frankenstein monster, the cartoon was accompanied by text
supposedly taken from Mary Shelley's novel.

Photographic reproduction of an illustration appearing in Punch, Mary 20, 1882
Photograph courtesy of the Pennsylvania State University Libraries
---
9.
Jack Pierce and his Assistant Transform
Boris Karloff into the Frankenstein Monster

According to actress Elsa Lanchester who played the bride in
The Bride of Frankenstein, make- up artist Jack Pierce took
his creative responsibilities very seriously, wearing a
doctor's full operating outfit when he prepared actors'
make-up for the Frankenstein films. Pierce studied human
anatomy and surgical technique to create the visually
distinctive look of both the monster and his mate.

Photograph courtesy of Film Stills Archive, Museum of Modern Art
---

10.
Movie Poster, The Bride of Frankenstein (1935)

In the 1935 sequel to Frankenstein, actress Elsa Lanchester
played a dual role, both Mary Shelley and the monster's mate.
Lanchester's striking, streaked hair and make-up have made
her image, like that of Karloff, recognizable to millions in
the years since 1935.

Photograph courtesy of The Granger Collection, New York
---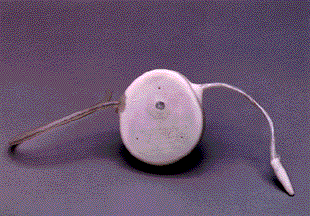 11.
Medtronic Chardack-Greatbatch Pacemaker, ca. 1960

In 1932 Albert Hyman described the first external cardiac
pacemaker to stabilize the rhythm of the heart. In the 1950s
battery-powered implantable pacemakers like this one developed
by physician William Chardack and associate Wilson Greatbatch
represented a tremendous stride in helping patients with heart disease.

The Bakken (lender)
Photograph courtesy of the National Library of Medicine
---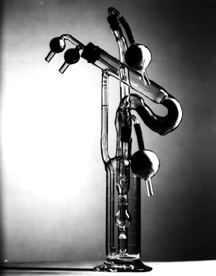 12.
Carrel-Lindbergh Perfusion Pump, 1935

Aviator Charles Lindbergh, working closely with surgeon
Alexis Carrel, developed a mechanical pump for circulating
blood through the body of a patient while an operation on
the heart was being undertaken. In 1953 surgeon John H. Gibbon
accomplished this feat when he introduced the heart-lung machine
for open heart surgery.

Photograph courtesy of the Rockefeller University Archives
---

13.
Electrical Frankie, ca. 1960s

Toy Scouts, Inc., Akron, Ohio (lender)
Photo courtesy National Library of Medicine
---
at THE NATIONAL LIBRARY OF MEDICINE
The National Library of Medicine is pleased to host a free "Thursday at the Movies" film series featuring five classic films about Frankenstein in conjunction with the exhibition Frankenstein: Penetrating the Secrets of Nature. Beginning November 6 1997 and concluding December 11 1997, the screenings will take place at the Lister Hill Center Auditorium at noon and then again at 7:00 pm. The evening show will feature introductory remarks from film professionals, scholars, and scientists.

For more information call (301) 435-3270 or
e-mail: frankenstein@nlm.nih.gov.
---
November 6 1997
Frankenstein (1931) 70 minutes
Frankenstein is the original Hollywood classic about
"a man of science who sought to create a man after his
own image without reckoning upon God."

Speaker at the evening screening: Stephen Hunter, film
critic at The Washington Post

Special feature: Rare screening of the 13-minute 1910
Edison Films "silent drama" Frankenstein-
the first cinematic adaptation of Mary Shelley's novel
with remarks by Fred Wiebel, artist/writer.
---
November 13 1997
The Bride of Frankenstein (1935) 118 minutes
"Warning! The Monster demands a Mate!" Considered by many
to be the greatest horror film of all time, the Bride of
Frankenstein combines horror, humor, and dramatic special
effects to create an memorable story of unnatural creation.

Speaker at the evening screening: Sue Norton, producer and
president of SBN Entertainment
---
November 20 1997
Curse of Frankenstein (1957) 83 minutes

The first in a series of graphic horror flicks, England's
Hammer Studios's film features an evil scientist obsessed
with creating life. Victor Frankenstein is so obsessed he
murders a colleague in order to provide his monster with
"the greatest brain in Europe."

Speaker at the evening screening: Joseph Bierman, psychiatrist and member of the Forum for the Psychoanalytic Study of Film
---
December 4 1997
Young Frankenstein (1974) 105 minutes

"Tonight we shall ascend into the heavens. We shall mock the
earthquake. We shall command the wonders and penetrate into
the womb of impervious nature herself," shouts Victor
Frankenstein in Mel Brook's loving parody of the Hollywood classic.

Speaker at the evening screening: Betty Bennett, leading scholar on Mary Shelley and former dean of the College of Arts and Sciences at The American University
---
December 11 1997
Mary Shelley's Frankenstein (1994) 123 minutes

The most recent and perhaps the most lavish production,
Mary Shelley's Frankenstein is one of the few films that
develops the monster as a thinking, feeling, rational being.

Speaker at the evening screening: Patricia Gallagher, information specialist at the New York Academy of Medicine
---
The poster below will be given away to those attending the event.