he arrangement of the PubMed screen will change soon. There will be three changes:
The Details button that is currently on the left of the Add to Clipboard button will become a link on the Features Bar (Limits, Preview/Index, etc.). This is being done so that the details of the last search will be available from more pages in PubMed, including the History page.
The Sort option will be added to the Results page. This will work similarly to the sort capability in the Clipboard. See the NLM Technical Bulletin article in this issue titled Sort Feature Available for All PubMed Retrieval for more information.[updated on August 29, 2001]
The Order button (for document deliver service) will be moved to the right of the Add to Clipboard button.
Figure 1 below shows the new screen format: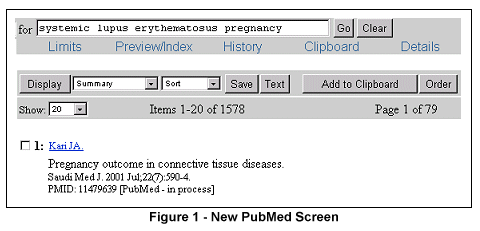 By Annette M. Nahin
MEDLARS Management Section


Nahin AM. PubMed's Screen Changes. NLM Tech Bull. 2001 Jul-Aug;(321):e7.