he Household Products Database (HPD) lets you search for a household product, such as dish detergent or air freshener, to find information about the health effects and safety of its chemical ingredients. Now you can find published biomedical research and clinical studies on an ingredient by clicking a link to run a PubMed search. [Note: Strategies are focused on the consumer and are not comprehensive.]
After you search for an ingredient or household product in HPD, click on an ingredient link to view its chemical information page. You can find the "Search PubMed" link from this page. (See Figure 1.) The search will retrieve biomedical references on the chemical's toxicity and potential adverse effects. Other links in HPD search TOXNET's® Hazardous Substances Databank (HSDB®) for human health effects studies, ChemIDplus for chemical information, and additional TOXNET databases for toxicity information.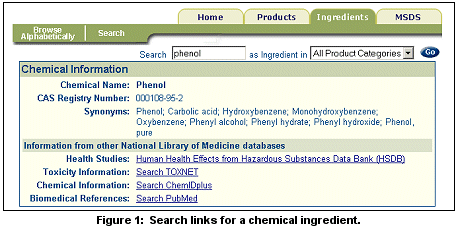 As of June, PubMed's LinkOut display will include links to some chemicals found in HPD. LinkOut provides PubMed users with connections to web-accessible resources, including full-text articles, consumer health information, and supplementary data, related to a PubMed citation. To check if a PubMed citation has a link to HPD, simply select "Links" to the right of the citation, then select "LinkOut," and look for links to household product ingredients under the heading "Medical: Consumer Health: Household Products Database." (See Figure 2.)

Visit Household Products Database at http://householdproducts.nlm.nih.gov.
By Jeffery Loo
NLM Associate Fellow


Loo J. Search PubMed from Household Products Database. NLM Tech Bull. 2004 Jul-Aug;(339):e4.