linicalTrials.gov is the National Library of Medicine® (NLM®)-developed registry for linking patients, clinicians, and researchers to information about clinical trials of drugs, devices, and other interventions. The registry was established under section 113 of the Food and Drug Administration Modernization Act to provide information to the public about drug effectiveness trials for serious or life-threatening diseases. This article describes the recent expansion of ClinicalTrials.gov to accommodate the policy of the International Committee of Medical Journal Editors (ICMJE) on clinical trial registration as a requirement for publication.
At present, ClinicalTrials.gov contains nearly 13,900 summaries of clinical research studies in all 50 states and over 100 countries. These studies are sponsored by the U.S. Federal government and industry, as well as non-profit organizations from around the world. Information about registering study information with ClinicalTrials.gov is available at the ClinicalTrials.gov Protocol Registration System (PRS).
As reported previously (Update: Expanded ClinicalTrials.gov Search Capabilities. NLM Tech Bull. 2002 Jul-Aug; (327):e5) the number of studies provided by industry sponsors have continued to increase since publication of the Food and Drug Administration's (FDA's) Guidance for Industry (March 2002). The guidance requires Investigational New Drug application (IND) holders to register clinical trials of drug effectiveness for serious or life threatening diseases. In addition, several industry associations, including the U.S.-based Pharmaceutical Research and Manufacturers of America (PhRMA), released the Joint Position on the Disclosure of Clinical Trial Information in January 2005, which encourages registration of industry-sponsored trials at ClinicalTrials.gov.
Scope Expansion

In September 2004 and May 2005, the ICMJE issued statements on "promoting registration of all clinical trials." The ICMJE member journals "will consider a trial for publication only if it has been registered before the enrollment of the first patient." The primary rationale for the requirement was to combat selective reporting, the practice of publishing only some trial results but not others. As the statement notes: "Our goal ... is to foster a comprehensive, publicly available database of clinical trials. A complete registry of trials would be a fitting way to thank the thousands of participants who have placed themselves at risk by volunteering for clinical trials. They deserve to know that the information that accrues from their altruism is part of the public record, where it is available to guide decisions about patient care, and deserve to know that decisions about their care rest on all of the evidence, not just the trials that authors decided to report and that journal editors decided to publish."
Up to October 2004, ClinicalTrials.gov only accepted the submission of trials conducted under FDA INDs or funded by the NIH and other U.S. Federal agencies. To accommodate the ICMJE criteria for reporting critical information about clinical trials at inception, ClinicalTrials.gov expanded its scope to allow registration of all trials that meet two requirements:
Approval by a human subject review board (or equivalent)
Conformance with the regulations of the appropriate national or international health authority
The May 2005 ICMJE statement clarified what it means to be "fully registered." This policy statement specified deadline dates by which trials must be registered to be considered for publication. The policy applied to ongoing trials that were not registered at patient recruitment inception as well as trials that started patient recruitment on or after July 1, 2005. Ongoing trials had to be registered before September 13, 2005 to be considered for publication. In addition, the ICMJE adopted a minimal registration data set, developed by the World Health Organization (WHO) technical advisory group, required to be provided and displayed by an acceptable clinical trial registry.
The NLM responded to the May 2005 ICMJE statement in two ways.
NLM started including the ClinicalTrials.gov identifier number in MEDLINE citations, when that information appears in an original publication. (ClinicalTrials.gov Identifier to be Added to MEDLINE®/PubMed® Data. NLM Tech Bull. 2005 May-June;(344):e13). This additional data field has been provided for users seeking trial information using the ClinicalTrials.gov unique identifier, the "NCT number" ("NCT" followed by eight digits).
ClinicalTrials.gov modified existing data elements and added new ones to support the ICMJE/WHO minimal registration data set fully. A mapping of the current ClinicalTrials.gov data elements to the corresponding ICMJE/WHO data set is shown in Figure 1.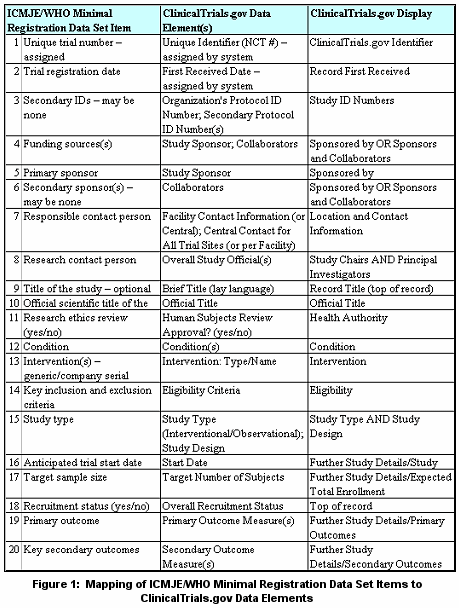 While ClinicalTrials.gov provides a mechanism for sponsors to submit information required by ICMJE, whether the content is sufficient to satisfy the criteria may only be determined by the ICMJE, or biomedical journal editors who choose to follow the ICMJE policies.
Information about the following topics is available at ClinicalTrials.gov Protocol Registration System (PRS):
Applications for PRS accounts to register study information with ClinicalTrials.gov
A view of the PRS screens ("guided tour")
Required data elements for registration at ClinicalTrials.gov
Section 113 of the Food and Drug Administration Modernization Act of 1997 (FDAMA 113)
ICMJE Statements
Contact Information
Please send your comments or questions to: custserv@nlm.nih.gov.
By Anna Ripple, Tony Tse, PhD, Deborah A. Zarin, MD
Lister Hill National Center for Biomedical Communications (LHNCBC)


Ripple A, Tse T, Zarin DA. ClinicalTrials.gov Scope Expanded. NLM Tech Bull. 2005 Jul-Aug;(345):e6.