he full text of articles archived in PubMed Central (PMC) includes the references cited by the articles. You can now also see a list of those references in PubMed, using the option Cited Articles, on the Links menu (see Figure 1).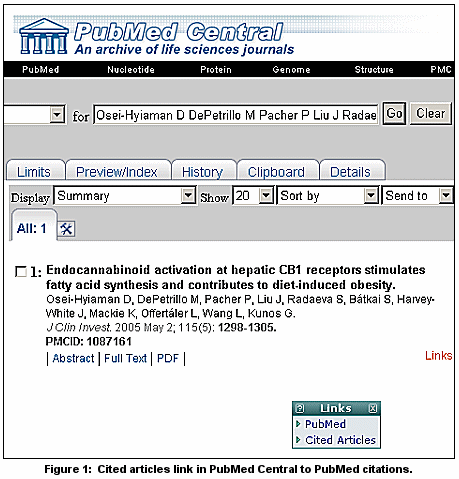 Cited Articles will link you to a PubMed list of the references for the original PMC article (see Figure 2).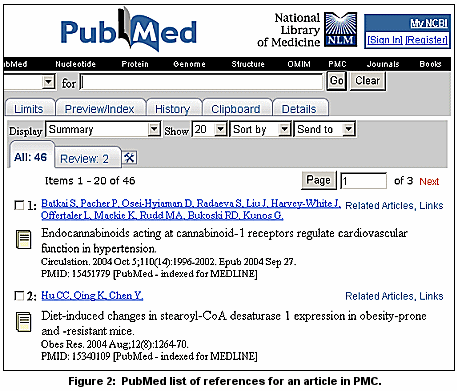 If you want a cumulative list of references for multiple articles in your PMC search results, first select the articles using the checkbox to the left of each citation in PMC, then choose "Cited Articles" from the Display pull-down menu. The resulting list of citations in PubMed will be for articles referenced by any of the articles from your PMC selections.
Please note: a Cited Articles list may contain fewer citations than are in the actual references section of the original article. This is because the original references list may contain items that are not in PubMed or the references may include improperly cited items that cannot be accurately matched in PubMed. The linking of references to PubMed citations is also available for the articles from digitized back issues of PMC journals, though there may be a smaller proportion of matched references for older articles. Also, the order of the citations on the PubMed list will not be the same as in the publication; the PubMed list will display in the order the records entered PubMed with the newest at the top.
The Cited Articles option is also available in PubMed search results using the PubMed Links and Display menus. Again, this option will list those references able to be matched in PubMed and works only for citations for articles that are in PMC -- which can be determined by the free-in-PMC icon:

By Ed Sequeira
National Center for Biotechnology Information


Sequeira E. References for Articles Archived in PubMed Central® can be Displayed in PubMed®. NLM Tech Bull. 2005 Jul-Aug;(345):e2.