Hochstein C. RePORTERTOX Subfile Replaces CRISP Subfile of Toxicology-Related Research Projects in the NLM TOXNET Version of TOXLINE. NLM Tech Bull. 2013 Jul-Aug;(393):e1.
National Library of Medicine (NLM) TOXLINE users will notice that their searches no longer include records from the CRISP subfile. The CRISP subfile of toxicology-related research projects has been removed from the National Library of Medicine (NLM) TOXNET version of TOXLINE and replaced with RePORTERTOX.
TOXLINE now provides access to projects from the NIH RePORTER system (//projectreporter.nih.gov/reporter.cfm), a searchable database of federally funded biomedical research projects conducted at universities, hospitals, and other research institutions, maintained by the NIH, and a replacement for CRISP. This TOXLINE subfile name has been changed to RePORTERTOX.
Users can limit their searches to the new grant and project information by selecting RePORTERTOX from the pull-down menu of subfiles (see Figure 1) on the TOXLINE "Limits" search page.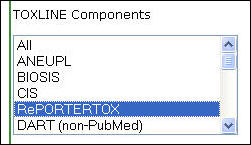 Figure 1: RePORTERTOX subset selection.
RePORTERTOX records in TOXLINE provide an "Award Type" field which contains the grant type (e.g., R01); the "Document Number" field provides a link to the grant in the full NIH RePORTER database; a new "Link to PubMed" field provides PubMed citations related to the grant (see Figure 2).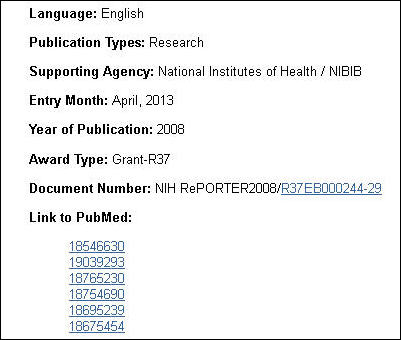 Figure 2: RePORTERTOX record fields (partial record display).