---
In This Issue:
---
Technical Notes - e1
Remembering ELHILL - e2

NLM Home Page Redesigned - e3
---
Current Issue
---
Home
---
Back Issues
---
Index
---
NLM Home Page Redesigned
NLM has completely redesigned and reorganized the NLM Home Page (http://www.nlm.nih.gov) with you, the user, in mind. See Figure 1.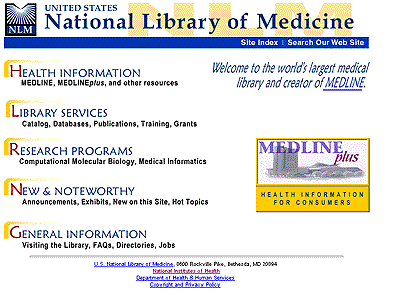 Background
First launched in October 1993, NLM's Web site was last reorganized in 1996 to provide extensive information about NLM's programs and services for a wide audience. Early examinations of the Web search logs showed that users of the Web site expected the NLM site to contain full-text medical information. A study of the 1998 NLM Web site logs found that 94% of the searches done on the site were for medical or health-related terms. Only 6% of the terms were related to NLM's programs and services. In addition, as the amount of information provided on the NLM site grew, it became increasingly difficult to find needed information.
Redesigning the Page
There were three major goals in the redesign:
To help site visitors understand where they should look for health information,
To create a simpler, cleaner look with consistent navigation and headers across NLM pages, and
To organize NLM programs and services into categories that would make sense to our many user communities - health professionals and researchers; librarians and information scientists; and the general public.
The site has been organized into five major areas: health information; Library services; research programs; new & noteworthy; and general information.
User Feedback
The new Home Page was launched on July 28, but it will take several months to complete conversion of all pages on the site to the new look. Early feedback has been helpful and mostly positive. Take a look for yourself - we'd like to hear from you as well. Please send your comments to: custserv@nlm.nih.gov or use the Contact NLM link shown at the top of most of the pages.
--prepared by Eve-Marie LaCroix
Chief, Public Services Division