n Friday, December 10, 1999, a new Books feature made its debut on the new version of PubMed. This Books feature provides links from individual PubMed journal citations to full text of molecular biology textbooks. The idea is to provide background information to PubMed, so users can explore unfamiliar concepts found in PubMed search results. Currently, there is one textbook available:
Molecular Biology of the Cell, 3rd edn, by Alberts, B., Bray, D., Lewis, J., Raff, M., Roberts, K. and Watson, J., 1994, Garland Publishing, Inc.
Molecular Biology of the Cell is one of the most widely used undergraduate textbooks in molecular and cell biology. Linked to PubMed abstracts, the scope of Molecular Biology of the Cell is such that it provides further information on a broad range of topics central to molecular and cell biology.
In the future, the selection of books available for consultation will grow to include new topics and different approaches to biology and medicine.
This is how it works:
If you are reviewing citations in a display format other than the summary format, you see an additional link to the right of Related Articles, called Books. See Figure 1.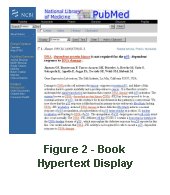 If you click on the Books link, the citation will be redisplayed with certain terms highlighted in a color different from the other text. These color-highlighted terms are hypertext links to the textbook(s). The linking has been determined by a term relevancy algorithm. See Figure 2.
When you link on a term you are brought to a screen that lists one or more sections of the book. This listing is in a ranked relevancy order. In Figure 2 we have clicked on the phrase "DNA damage."
This brings us to the screen in Figure 3.
When you are on the Textbooks list linking page (as shown in Figure 3), you will see a PubMed sidebar. The Help link from the sidebar on this page will take you to an Overview, Help, and FAQs specific for the Books linking feature. Please read the information here for further details and assistance.
Clicking on one of the book section titles takes you to that part of the book. A user can navigate around other pages within this part of the book, but it is not possible to access the whole book.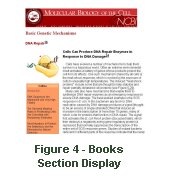 Each 'navigable unit' stands alone and includes the corresponding figures, tables, and reference citations, which are linked where possible back to PubMed abstracts.
Figure 4 shows a partial display of the book section you are linked to after clicking on the second book section displayed in Figure 3.
By Janet Zipser
MEDLARS Management Section

Zipser J. New Books Feature added to New PubMed. NLM Tech Bull. 2000 Jan-Feb;(312):e1.