n or about March 3, 2003, search subsets will be available in the NLM Gateway. Implementation of search subsets will enable users to limit their searches of PubMed Journal Citations, Books/Serials/AVs, and Meeting Abstracts. Until now, meeting abstracts were maintained in 3 distinct collections: AIDS Meeting Abstracts, Health Services Research Meeting Abstracts, and Space Life Sciences Meeting Abstracts. With the implementation of search subsets and refined search capabilities, all meeting abstracts have been combined into a single collection: Meeting Abstracts.
Each search subset employs customized search strategies to assist in the retrieval of relevant items in the three collections (PubMed, Books/Serials/AVs, Meeting Abstracts). The subsets will limit searches to items on one of four specialized topics: AIDS, Bioethics, History of Medicine, and Space Life Sciences. The search subsets will be accessed in the Gateway's Limits. See the search example below.
The User enters a search term(s) in the search query box and clicks on Limits on the features bar. In Limits, a topic is selected from the Subsets pull-down menu. (See Figure 1.) Clicking on the Search button initiates the search.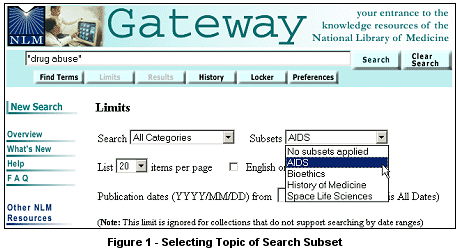 The results displayed in the PubMed, Books/Serials/AVs (Locatorplus), and Meeting Abstracts collections are relevant to the Subset topic selected. The user can select items from 1 or more of those collections and store them in the Locker. (See Figure 2.)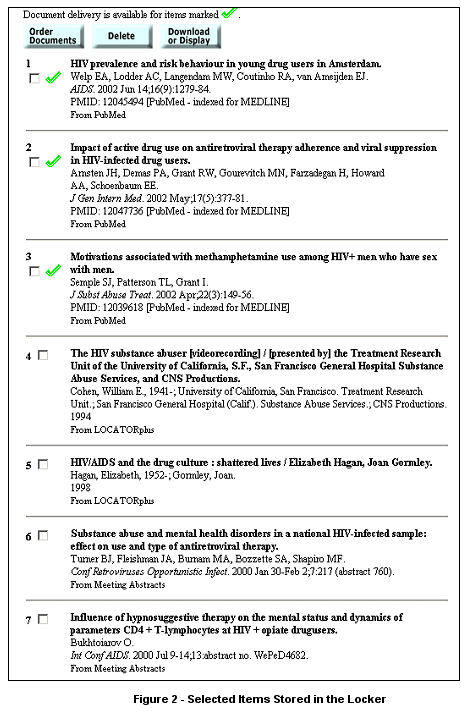 Any or all of the items in the Locker can be printed, emailed or downloaded into reference management software. Also, documents can be ordered for the PubMed items. The Gateway provides a convenient centralized way to search multiple NLM search engines and then further manipulate the results.
This implementation of search filters is the initial phase in the further development of Gateway's search capabilities. Note in the Results Summary for the above search limited to the AIDS Subset (Figure 3) that items were retrieved in all categories.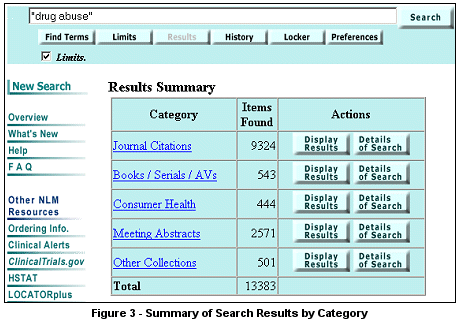 The subsets are not yet applicable in OLDMEDLINE, Consumer Health or Other Collections. In those collections, the search term alone (e.g., "drug abuse") is searched and items are retrieved on that search term. For now, search subsets refine the search in the PubMed Journal Citations, Books/Serials/AVs, and Meeting Abstracts collections. Under Details of Search, the actual strategies can be viewed and reminder notices occur when a subset is not active in a collection. Stay tuned for future enhancements to the NLM Gateway!
By Andrea Demsey
MEDLARS Management Section
and
By Sonya Shooshan
Lister Hill National Center for Biomedical Communications


Demsey A, Shooshan S. Search Subsets Available in the NLM Gateway Limits Feature. NLM Tech Bull. 2003 Jan-Feb;(330):e10.