he National Library of Medicine (NLM) recently added 8,833 meeting abstracts to the NLM Gateway. The abstracts are from the XIV International AIDS Conference that was held in Barcelona Spain, July 7-12, 2002
To Find the 2002 International AIDS Conference Abstracts
The XIV International AIDS Conference meeting abstracts can be retrieved quickly by searching the conference's title abbreviation (in double quotes) followed by the title abbreviation tag [ta] and the publication date 2002 tagged [dp] (see Figure 1). A list of meeting abstract full conference titles and title abbreviations is available in the Gateway FAQ section.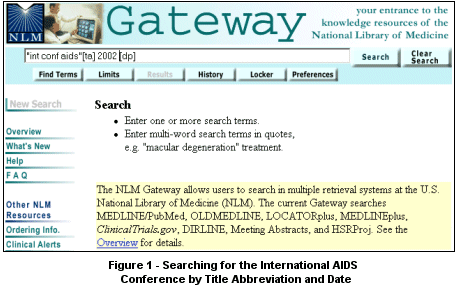 The user can also use the Limits feature to restrict searches to the Meeting Abstracts category and the publication date 2002. The search query will include the title abbreviation as described above and may also include one or more search terms (see Figure 2).
Other AIDS-Related Meeting Abstracts
There are now 63,984 meeting abstracts from various AIDS-related conferences and symposiums in the Gateway's Meeting Abstracts category, including meeting abstracts from the 6th through the 14th International AIDS Conferences. NLM does not claim the copyright on the contents of the HIV/AIDS-related meetings, but the data provider may.
By Nadine Benton
MEDLARS Management Section


Benton N. The XIV International AIDS Conference Meeting Abstracts Available in the NLM Gateway. NLM Tech Bull. 2003 Mar-Apr;(331):e4.