ubMed will soon include a new feature that will provide users with an easy way to e-mail search results.
[Editor's Note: This feature was added to PubMed on April 23, 2003.]
An e-mail selection will be added to the Send to pull-down menu. After reviewing your search results you may click on specific citations or simply choose E-mail and then click Send to. You may e-mail up to 500 items.
Options available include: Format, Sort, Items, HTML, or Text. For additional information on these options please consult PubMed's Help. You may also enter a message that will be included with the PubMed search results in the e-mail message.
Selections on the results page (See Figure 1) are reflected on the options screen (See Figure 2) and can be modified if desired.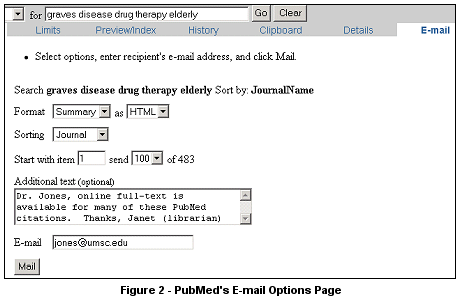 After clicking the Mail button, the system will return to your results page and display a message confirming that the e-mail message was sent. Your PubMed results will be sent from the NCBI automatic mail server, Sent by Entrez [nobody@ncbi.nlm.nih.gov] with a "Subject" of PubMed Search Results. Do not reply to this message. This is not a functioning customer service e-mail address.
If you choose HTML, the PubMed e-mail message can be displayed as a PubMed results page and include hyperlinks to Related Articles, LinkOut, and other PubMed features (see Figure 3). The recipient's e-mail service must be set for HTML view to allow for the proper display of this format.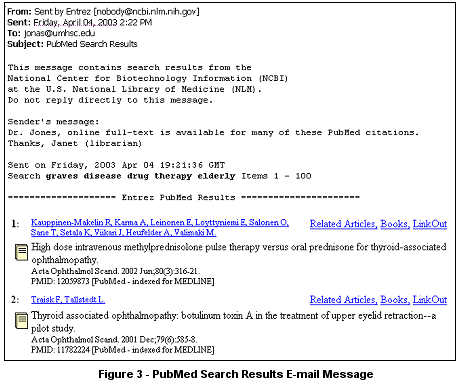 Note: Some e-mail services may require additional steps to see the complete e-mail of search results or may not be able to display the message at all. This is more likely to happen when large numbers of items and/or larger display formats (e.g., Abstract) are sent. In this situation, work with the recipient to decide if e-mailing search results is the best option. It may be better to use the Send to File option rather than "Send to E-mail," and then attach that file to an e-mail message addressed to the recipient.
By Kathi Canese
National Center for Biotechnology Information


Canese K. E-mail Feature Planned for PubMed® Soon. NLM Tech Bull. 2003 Mar-Apr;(331):e6.