urrently, when words are entered in the NLM Gateway's search query box, each word is searched individually and then ANDed together. Gateway treats multiple words as a phrase only when the user identifies the phrase by placing double quotes around it, (e.g., "blood loss" or "hansen ma").
In April 2003, Gateway will implement Phrase Detection. [Editor's note: this change was implemented on April 23, 2003.] A user will no longer have to put a multiword search term in quotes to have it searched as a phrase, because many phrases will be recognized by the Phrase Detection function. MeSH terms, MeSH entry terms, and UMLS Metathesaurus terms that map directly to a MeSH concept will all be recognized. See Figures 1 and 2 as well as Table 1.
Enter shortness of breath in the search query box. The Gateway recognizes the three words as a phrase and sends the search as a phrase (rather than breaking it apart into individual words ANDed together) to the various search engines. (See Figure 1.)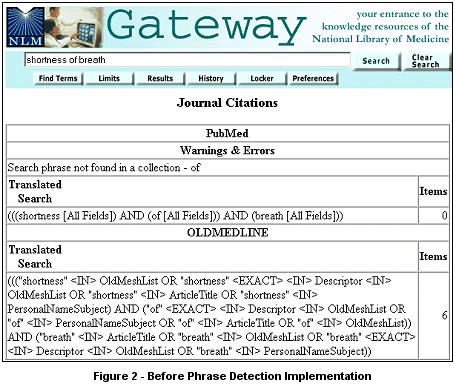 Note: The Details of Search button on the Results Summary displays the Translated Search for each category as seen in Figures 1 and 2.
Search Query
Gateway Search of PubMed After Phrase Detection Implemented
Gateway Search of PubMed Before Phrase Detection Implemented
jet lag
jet lag syndrome [MeSH Terms] OR jet lag [Text Word]
((jet [All Fields]) AND (lag [All Fields]))
heart attack
myocardial infarction [MeSH Term] OR heart attack [Text Word]
((("heart" [MeSH Terms]) OR (heart [Text Word])) AND (attack [All Fields]))
cold sore
herpes labialis [MeSH Term] OR cold sore [Text Word]
((((("pulmonary disease, chronic obstructive" [MeSH Terms]) OR ("common cold" [MeSH Terms])) OR ("cold" [MeSH Terms])) OR (cold [Text Word])) AND (sore [All Fields]))
acute otitis media
acute [all fields] AND (otitis media [MeSH Term] OR otitis media [Text Word])
(((acute [All Fields]) AND (("otitis" [MeSH Terms]) OR (otitis [Text Word]))) AND (("tunica media" [MeSH Terms]) OR (media [Text Word])))
(Note: otitis media is recognized as a phrase, and the phrase and the word acute are searched as two search terms.)
Table 1 - Additional Examples After Phrase Detection Implemented
The Phrase Detection function also eliminates the need to use double quotes for multiword search terms in qualified searches, e.g., hansen ma [AU], blood loss [TI] or diabetes mellitus [MH].
If you do not want a phrase as identified by the Gateway, use Boolean operators with the search terms (e.g., glial AND cell line). Also, you may still use double quotes. If the phrase that you want searched is not recognized by the Gateway, enter double quotes around it. (See Figures 3 and 4.)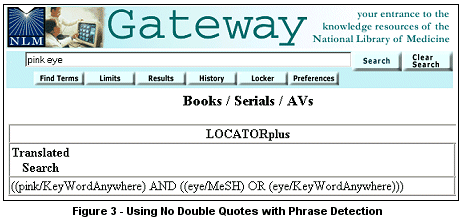 The double quotes disable the Gateway Phrase Detection function and the quoted multiword search term is sent as a phrase to all of the retrieval systems searched through the Gateway. Each retrieval system then processes the search query in accordance with its own searching procedures.
More information on searching the Gateway can be found in the Help and FAQs available on the left sidebar of each page. If you have questions that are not addressed by this article or Gateway documentation, please click on the "Contact Us" button available at the bottom of each Gateway page to send us a message.
By Andrea Demsey
MEDLARS Management Section
and
Sonya Shooshan
Lister Hill National Center for Biomedical Communications


Demsey A. and Shooshan S. NLM Gateway Implements Phrase Detection. NLM Tech Bull. 2003 Mar-Apr;(331):e8.