he Entrez programming software used by PubMed was recently enhanced to improve and make consistent the way in which PubMed interprets users' queries. Samples of these improvements follow with examples of actual PubMed queries, which were previously unsuccessful, but will now retrieve citations.
A colon between numbers is interpreted as a ranging operator (e.g., 2002:2004 [dp]); otherwise the colon will be ignored.

benign breast lumps: harmless but need attention


If an operator (AND, OR, NOT) is not entered when combining nested terms with other terms, the AND operator will be applied.

rabies (cat OR rabbit)


Hyphens continue to indicate a phrase search. If the phrase is not found in the index of searchable terms, however, PubMed will combine the individual words from the phrase using the AND operator. A notice indicating that the term (as a phrase) was not found will be displayed on the results screen.

healthy-full-term
Notices of Errors and Details
If the searcher enters a query with errors (see Figure 1), PubMed will display a notice of this on the results screen (see Figure 2) with a link to the Details screen.
The Details screen reflects PubMed's improvements. The Query translation box on this screen (see Figure 3), which shows how terms from the query were translated, no longer displays terms not found in the database. These will continue to appear under Phrase(s) Not Found. If the search query has other errors, e.g., the parentheses are unbalanced, or a search tag has been used incorrectly, a notice of this will display on the results screen, "Syntax error in query. See Details." (see Figure 2.) On the Details screen, under User Query (see Figure 3), look for one or more characters in another color, which indicates the query needs to be reviewed. For example, if a parenthesis is highlighted, the query should be checked for the balanced use of parentheses.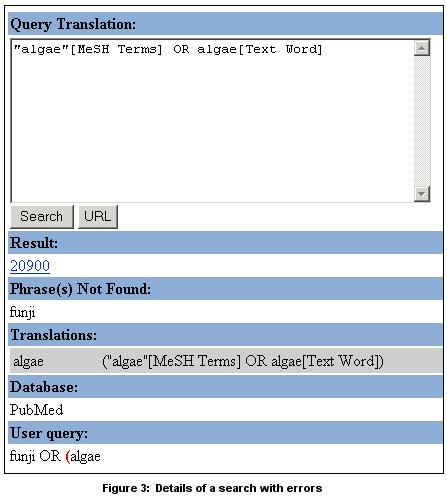 For more information about how PubMed interprets queries, see Combining Search Terms with Boolean Operators in PubMed Help. Note: Controlled terms (i.e., MeSH terms and journal titles or abbreviations) should continue to be entered following the guidelines provided in Help.
By Annette M. Nahin
MEDLARS Management Section


Nahin AM. Entrez Programming Redesign Improves PubMed®. NLM Tech Bull. 2004 Mar-Apr;(337):e4.