he gene indexing operation performed by MEDLINE® indexers advanced to a new phase in November 2004 when LocusLink was replaced by Entrez Gene as the interface for gene indexing. The basic principles of gene indexing have not changed with Entrez Gene: indexers create annotated links between records in Entrez Gene and PubMed®'s MEDLINE citations in which the basic biology of a gene or protein is the main focus of the article.

What has changed significantly is the number of organisms for which gene indexing is performed. In LocusLink, gene indexing was limited to fifteen organisms. In Entrez Gene, more than 1,800 organisms are represented. Organisms include a variety of mammals, vertebrates, invertebrates, microorganisms and plants. More organisms are added to Entrez Gene on a continual basis as genetic information about them becomes available.

To facilitate the gene indexing process, the National Center for Biotechnology Information (NCBI) has created a panel within Entrez Gene specifically for indexers. Because of the improved searching capabilities of Entrez Gene over LocusLink, indexers are able to narrow their retrieval and locate Entrez Gene records more easily and more efficiently.

MEDLINE indexers currently create nearly nine hundred links per week, and since the start of the project in the summer of 2001, they have created more than 97,000 links.

In PubMed citations, users may click on "Links" and then select "Gene" from the pull-down menu (see Figure 1) to view the Entrez Gene record for the gene or protein to which the article was linked.





The Entrez Gene records contain a variety of information including nomenclature, chromosome location, general gene and protein information, accession numbers, links to PubMed, links to other databases and the GeneRIF information created by MEDLINE indexers: a brief annotation or statement of the biology of the gene or protein reported in the article as shown in the Bibliography section of the record (see Figures 2 and 3). The gene indexing information resides in the Entrez Gene database and not in the physical MEDLINE citation.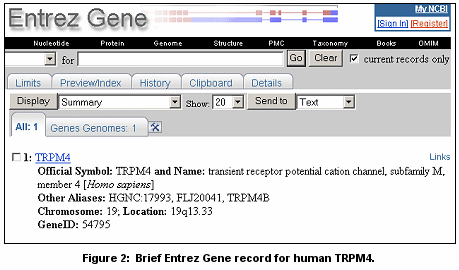 Click on TRPM4 to view the full record including the GeneRIF information.
By Janice Ward
Index Section


Ward J. Entrez Gene. NLM Tech Bull. 2005 Mar-Apr;(343):e6.