Citing Articles in Journals Published in Print and on the Web
Recently, publishers of established journal titles, previously issued only in print format, have begun to issue electronic versions of their journals on the Web. These electronic journals are not necessarily exactly the same as their print counterparts, often having additional or expanded articles or entire supplements with no print equivalents. Furthermore, some electronic editions do not contain every article or feature that is found in the corresponding print edition. These new hybrid print/electronic publications pose unique problems for libraries and for users of NLM's databases.
In order to include electronic portions of journals in MEDLINE® , NLM must first be aware of their existence. If a publisher merely posts an additional article or an entire supplement on its Web site, NLM has no way of detecting this, nor any means of producing a citation for MEDLINE.
Likewise, database users may not be able to locate the electronic article or supplement unless it is evident that this material is not part of the printed edition. NLM would like to be able to distinguish print from electronic materials unambiguously, but finds it difficult or impossible to do so when publishers provide continuous pagination for their print and electronic issues and/or supplements. The Library has urged publishers to augment electronic pagination or article numbers with an "e" or similar designation for this purpose, but has met with limited success.
Background
NLM has customarily indexed only one edition of each journal, whether it is the North American edition versus the European edition, or the print version versus the electronic version (in cases where the two versions are identical). In the former case, we prefer to cite the edition most widely available in the United States. In the latter case, we prefer the print version, based in part on interlibrary loan and preservation concerns. As journals increasingly have begun to publish some substantive material solely on the Web, however, this practice is under review.
At the present time, electronic supplements are handled according to policy established for print supplements. Specifically, NLM indexes dependent supplements to journals that have been selected for inclusion in Index Medicus and MEDLINE. A dependent supplement is one that has the same title and volume numbering as the primary journal. [Note that independent supplements must be selected for indexing on their own merit.] NLM's rationale for indexing dependent supplements was predicated upon the assumption that these supplements bore the same editorial imprimatur as the parent title. We will review the contents and permanence of electronic supplements in the future, to determine if this assumption is still correct.
Technical Issues
With electronic as well as print articles and supplements, NLM can only index the materials that are received. An indexer who is analyzing a printed journal issue will not see articles that are visible only on the Web. Likewise, because many supplements are issued only sporadically, NLM does not know what it might be missing. We can process these materials only if their publishers supply bibliographic citation data correctly tagged with Standard Generalized Markup Language (SGML), as described in the NLM standard data format (http://www.ncbi.nlm.nih.gov/pubmed/publisher.html) [This link was removed because it is no longer valid.].
Owing to the complexity of checking in serial issues and supplements for a collection as large as the National Library of Medicine's, and to prevent duplicates from being cited in MEDLINE, we require publishers of print/electronic hybrid journals to establish a unique ISSN for the electronic material. At present, this is our only means of processing hybrid journals. For items that are solely electronic, or when the electronic journal differs from the print version, NLM requires the publisher or its designee to transmit the SGML citation data using the correct ISSN for the electronic medium. This requirement is in accordance with current national cataloging standards and practice.
Examples from the Journal Pediatrics
Pediatrics is an example of the new hybrid journal published both in print and electronically on the Web. The National Library of Medicine cites the contents of the journal Pediatrics and its supplements in one of three ways shown below depending on the media used for publication and the information supplied by the publisher to NLM.
An article that occurs in the print version as well as the electronic version of this journal -

Skinner JD, et al. [See Related Articles]
Fruit juice intake is not related to children's growth.
Pediatrics. 1999 Jan;103(1):58-64.
PMID: 9917440; UI: 99117608.

The MEDLINE report format for this citation displays the ISSN (IS) for the print version of this journal (0031-4005).


An article that occurs only in the electronic version of this journal -

Kessel I, et al. [See Related Articles]
Congenital hypothyroidism and nonimmune hydrops fetalis: associated?
Pediatrics. 1999 Jan;103(1):E9.
PMID: 9917489; UI: 99117568.

Note the use of the pagination designator "E" by the publisher to indicate the electronic nature of the item; the MEDLINE report format for this citation displays the ISSN assigned to the electronic version of this journal (1098-4275).


An article that occurs only in an electronic supplement to the journal -

Kilo CM. [See Related Articles]
Improving care through collaboration.
Pediatrics. 1999 Jan;103(1 Suppl E):384-93.
PMID: 9917480; UI: 99117589.
Note the use of "regular" pagination and the supplement designator "E" by the publisher to indicate the electronic nature of the item; the MEDLINE report format for this citation also displays the ISSN assigned to the electronic version of this journal and its electronic dependent supplement (1098-4275).

Determining Electronic Availability for a Journal Title or Citation
Journals that are available electronically and submit their text electronically to NLM are indicated by the presence of a link to the journal's Web site in the record.

PubMed Links to Journal Web Sites
For example, when you find a citation in PubMed, every display format (Citation, Abstract or MEDLINE) except the intial brief display on the document summary page, contains the link to the electronic journal, if an electronic version of that journal exists.

Figure 1 below shows a Pediatrics citation displayed in brief format. Clicking on Display will bring up the screen shown in Figure 2 with the link to the Pediatrics Web site.

Internet Grateful Med Links to Journal Web Sites
The same Pediatrics citation in Internet Grateful Med's brief display as shown in Figure 3 does not show the link to the Pediatrics Web site. However, if you click on the Full Citation button, the IGM Full Record Screen (Figure 4) has an "Open new window to Publisher's Site" button.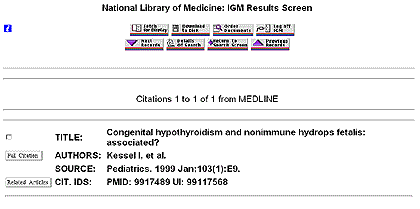 ---
---
LocatorPlus Links to Journal Web Sites
Serial titles in NLM's LocatorPlus, NLM's new Online Public Access Catalog on the Web, also has links to journal Web sites in the detailed holdings record as shown in Figure 5.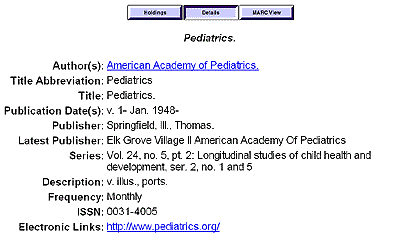 Electronic Publication and Interlibrary Loan
The related concerns of interlibrary loan and preservation of electronic-only items are under formal review at NLM as is the practice of preferring to cite the print version of the hybrid journal. Librarians will increasingly need to check for electronic links in the records of citations and serials in order to make the appropriate decision on how to obtain the full document. As more publishers transition to electronic media, libraries and abstracting and indexing services are faced with new challenges on how to process and disseminate this information. NLM will continue to share its approach as decisions are made.
[Editor's Note: For updated information see the Technical Note, New Fact Sheet, Print and Electronic Journals in MEDLINE®, Available (http:www.nlm.nih.gov/pubs/techbull/ja99/ja99_technote.html#factsheet), in the March-April 1999 NLM Technical Bulletin.]
--prepared by Lou Knecht
Bibliographic Services Division