here are an increasing number of journals published simultaneously in both print and online formats. Often each format will have its own unique ISSN. To accommodate this growing trend, PubMed's Journal Browser now displays ISSNs for both the print and electronic formats of a journal (see Figure 1).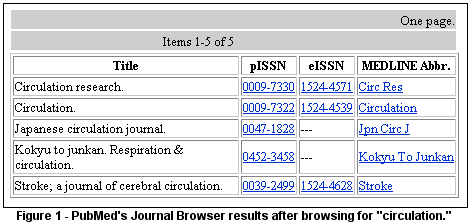 The ISSN data is now displayed in two columns: pISSN (the ISSN for the print version) and eISSN (the ISSN for the electronic or online version). If the journal exists in only one format, only one ISSN will display. ISSN links continue to connect to PubList, a commercial Web site, for information about the publication, publisher, etc.
When you use the link for a Journal Title Abbreviation (MEDLINE Abbr.) in the Browser, PubMed now searches that journal using the Journal Title Abbreviation, rather than the ISSN as in the past. Title Abbreviation searches will retrieve citations to all articles for that journal, including both the print and electronic formats.
An upcoming article will explain recent changes to NLM's new cataloging policy concerning journals published in print and electronic versions.
By Annette M. Nahin
MEDLARS Management Section

Nahin AM. Changes to the PubMed® Journal Browser. NLM Tech Bull. 2001 May-Jun;(320):e9.