ubMed®'s Single Citation Matcher can be a valuable tool for reference librarians or anyone trying to locate specific citations. PubMed has introduced an enhancement to this feature. There is now an entry box to include title words in the Single Citation Matcher search. This enables you to enter one or more words from the title of an article to find the citation in PubMed. You can combine title words with other citation data, e.g., a journal name or an author name. However, if you know four or more significant words from the title, that is often all that is needed to locate a reference.
Here is an example. We are looking for the citation for an article entitled, "Where does it hurt? Pain localization in osteoarthritis of the knee." We entered four significant words from this title into the Title words box of the Single Citation Matcher screen and clicked on the Search button (see Figure 1).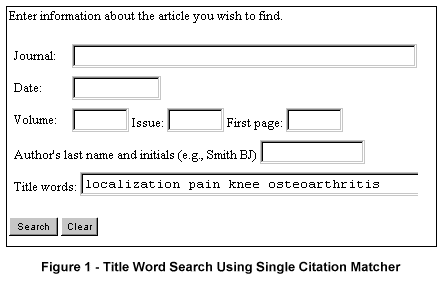 PubMed located the reference as shown in Figure 2.
For more information about the Single Citation Matcher, please see PubMed's Help.
By Annette M. Nahin
MEDLARS Management Section


Nahin AM. Title Word Search Added to Single Citation Matcher. NLM Tech Bull. 2001 May-Jun;(320):e5.