he Bookshelf at the National Center for Biotechnology Information (NCBI) will be the new home of the Health Services Technology Assessment Texts (HSTAT).
HSTAT contains full text documents that provide health information and support health care decision making. HSTAT's audience includes health care providers, health service researchers, policy makers, payers, consumers and the information professionals who serve these groups.
HSTAT is part of the expanded Health Services Research Information Program coordinated by NLM's National Information Center on Health Services Research and Health Care Technology (NICHSR). NICHSR works to improve the organization and dissemination of the results of health services research, including practice guidelines and technology assessments.
The following is the current list of the full text, searchable documents available in HSTAT:
Evidence reports and technology assessments from the Agency for Healthcare Research and Quality (AHRQ), formerly the Agency for Health Care Policy and Research (AHCPR).
AHRQ's Put Prevention Into Practice guidelines for clinicians and consumers.
National Institutes of Health (NIH) Consensus Conference Reports and Technology Assessment Reports.
HIV/AIDS Treatment Information Service (ATIS) federally approved treatment guidelines and information.
Substance Abuse and Mental Health Services Administration's Center for Substance Abuse Treatment (SAMHSA/CSAT) Treatment Improvement Protocols (TIP) and Center for Substance Abuse Prevention (SAMHSA/CSAP) Prevention Enhancement Protocols System (PEPS).
U.S. Preventive Services Task Force's Guide to Clinical Preventive Services.
Task Force on Community Preventive Services' Guide to Community Preventive Services.
Reports of the Surgeon General.
Health Technology Advisory Committee (HTAC) of the Minnesota Health Care Commission (MHCC) health technology evaluations.
All of the collections in HSTAT can be accessed in the following ways:
By searching the complete Bookshelf;
By searching the HSTAT collection specifically;
By browsing the collections from the HSTAT homepage (see Figure 1);
Through the Books selection from the Links pull-down menu to the right of PubMed citations;
From the Entrez cross-database search page.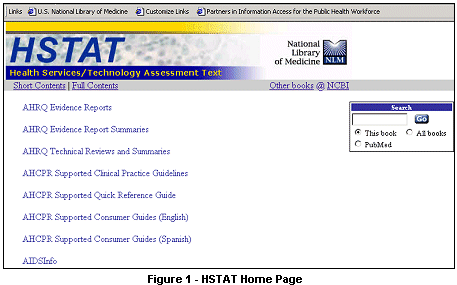 Each document within HSTAT is displayed in a series of bite-sized pieces, based on the subsections of the documents. A navigation bar on the left of each page allows the user to jump between document sections, documents or collections within HSTAT.
Any Bookshelf page can be bookmarked as a "favorite" for future reference, or be linked to by another Web page. Citations within HSTAT documents that also have a PubMed or PubMed Central record are hyperlinked accordingly from the reference list.
Watch for an announcement in the NLM Technical Bulletin Technical Notes of the debut date of HSTAT on the Bookshelf. In the meantime, you can read about searching Bookshelf at:
http://www.ncbi.nlm.nih.gov/entrez/query/Books.live/Help/bookhelp.html.
[Editor's Note: HSTAT is now located on the National Center for Biotechnology Information (NCBI) Bookshelf. Please see the Technical Note, Technical Notes. NLM Tech Bull. 2004 May-Jun;(338):e1.]
By Lisa Sedlar
National Information Center on Health Services Research and Health Care Technology


Sedlar L. HSTAT Moves to the Bookshelf. NLM Tech Bull. 2004 May-Jun;(338):e3.