[Editor's Note: This feature was implemented in PubMed on June 16, 2005.]

ollowing on the success of the autocomplete feature for Journal titles in PubMed's Single Citation Matcher (See PubMed's® Single Citation Matcher Enhanced: First Author Search and Autocomplete for Journal Titles Added), an autocomplete feature for Author names will be added. Use the link on PubMed's sidebar to go to the Single Citation Matcher. As you enter a name in the Author name box you will see a list of suggested names which gets shorter as you type more letters (See Figure 1). As soon as you see the author name you are looking for, you may select that name. Fill in other boxes on this screen as needed.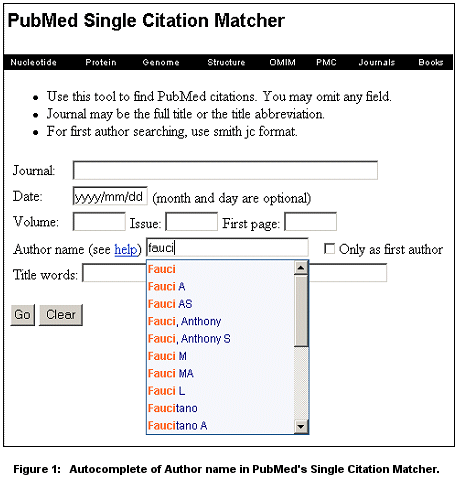 Notice in Figure 1 how full author names are intermixed with names in the conventional format, last name + initial(s). You can even enter the full name in natural order (See Figure 2).

Please keep in mind that full author name searching will limit retrieval to citations to articles published with full names published in 2002 forward. (Additional information regarding full author name searching is provided via the "help" link and also in the article, Full Author Searching Comes to PubMed®. NLM Tech Bull. 2005 May-Jun;(344):e4.)
Please note the third bullet on this screen:
For first author searching, use smith jc format.
"Only as first author" option can be used only with the conventional author format, e.g., fauci as. Searchers should also consider that authors who usually publish with a middle name or initial may sometimes publish with only a first name or first initial.
By Annette M. Nahin
MEDLARS Management Section


Nahin AM. Autocomplete for Author Names Added to PubMed's® Single Citation Matcher. NLM Tech Bull. 2005 May-Jun;(344):e10.