new clinical study category called Clinical Prediction Guides has been added to the PubMed Clinical Queries page. (See Figure 1.)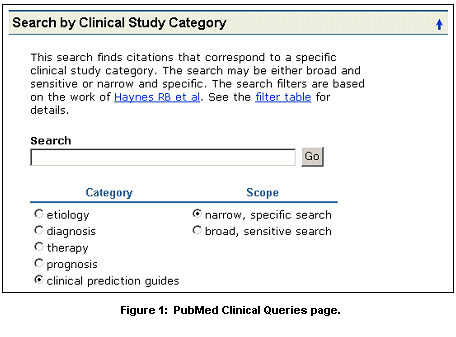 Clinical Prediction Guides pertain to the prediction of some aspect of a disease or condition and have been advocated as a mechanism for enhancing clinical judgement. Clinical prediction studies develop or validate rules, guides, indexes, equations, scales, scores or models to predict a diagnosis, prognosis, risk (etiology), therapeutic response, therapeutic drug level or clinical outcome. An example of a clinical prediction guide is the Ottawa ankle rule. Can Fam Physician. 1996 Mar;42:478-80.
Ottawa ankle rules.


Stiell I.


Medical Research Council of Canada Research Personnel Program, Ottawa.


The Ottawa ankle rule project demonstrated that more than 95% of patients with ankle injuries had radiographic examinations but that 85% of the films showed no fractures. A group of Ottawa emergency physicians developed two rules to identify clinically important fractures of the malleoli and the midfoot. Use of these rules reduced radiographic examinations by 28% for the ankle and 14% for the foot.


Publication Types:

Clinical Trial
Controlled Clinical Trial



PMID: 8616287 [PubMed - indexed for MEDLINE]
The search strategies (broad and narrow scope) for this category have been developed by Wong SS, et al., as described in the following publication:
Developing optimal search strategies for detecting sound clinical prediction studies in MEDLINE. AMIA Annu Symp Proc. 2003;:728-32. PMID: 14728269
By Ione Auston
National Information Center on Health Services Research and Health Care Technology (NICHSR)


Auston I. Clinical Prediction Guides Added to PubMed® Clinical Queries. NLM Tech Bull. 2005 May-Jun;(344):e7.