n 2004, Health Services Research (HSR) search filters were introduced for searching PubMed. For further information see the article, Beta Test on Health Services Research (HSR) Filters for Searching PubMed®. NLM Tech Bull. 2004 Jan-Feb;(336):e2.
A new category on Qualitative Research has been added to the HSR queries page (see Figure 1). Qualitative research is research that employs nonnumeric information to explore individual or group characteristics, producing findings not arrived at by statistical procedures or other quantitative means (Last, John M. Dictionary of Epidemiology. 4th ed. 2001). Qualitative studies relate to how people perceive or experience situations. In health services research, qualitative studies are often used to provide "richer" information to augment quantitative (numeric) data. Patient compliance studies provide an example of how qualitative information can inform beyond quantitative data. Simply enumerating patient drop-out rates from treatment does not tell the full story. Qualitative research can be used to discover more about patients' reasons for noncompliance. For example, is noncompliance due to clinical problems with the actual treatment itself or for other reasons, e.g., lack of transportation to treatment centers?
Based on the work of Wong SS, et al., this new search category provides either a broad scope (in order to optimize total number of citations retrieved) or a narrow scope (in order to optimize retrieval of highly relevant citations) (see Figure 2). No research methodologic criteria were developed for this category other than that data collection and analysis methods are appropriate for qualitative research.
The HSR queries page also has a new format that closely resembles PubMed's Clinical Queries page, and the Clinical Practice Guidelines category that was available during the pilot phase has been removed. PubMed's Systematic Reviews search now includes Clinical Practice Guidelines, so this separate search category was no longer necessary.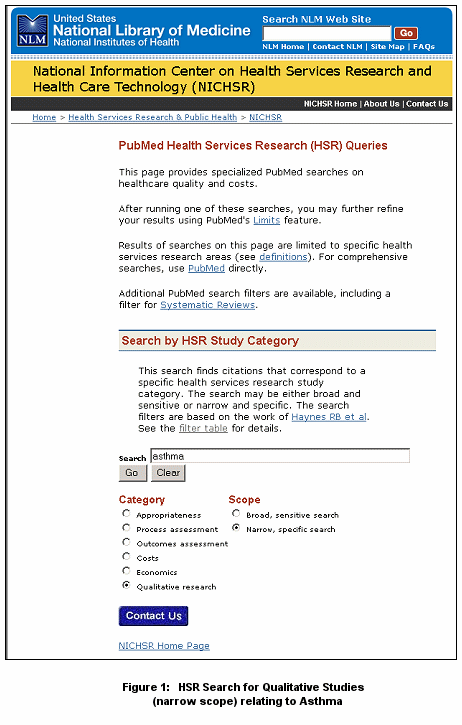 The National Information Center on Health Services Research and Health Care Technology (NICHSR) welcomes your comments on these queries. A comment feature is available from the HSR queries page for this purpose.
By Ione Auston
National Center for Health Sciences Research (NCHSR)


Auston I. Qualitative Research Added to the Health Services Research (HSR) Search Filters. NLM Tech Bull. 2005 May-Jun;(344):e6.