n June 5, 2005, the National Library of Medicine unveiled a totally redesigned Loansome Doc, the document ordering system used for PubMed® and the NLM Gateway. Loansome Doc users can order biomedical literature from a participating medical library. Users contact a specific library, agree to services, register with Loansome Doc and then order articles from PubMed (using the Send to Order feature) and/or the NLM Gateway (using the Select and action Order documents feature). The latest version of Loansome Doc provides an updated appearance, new functionality, and an easier to use interface.
Login ( https://docline.gov/loansome/login.cfm )
The Login screen highlights the attractive new appearance of Loansome Doc (see Figure 1). With the new version of Loansome Doc, login using the e-mail address in your account record. No more having to remember yet another user ID. If you've forgotten your password, click on the Forgot Password link and we'll send you a new one. If you can't remember what e-mail address is in your account record, check with your library.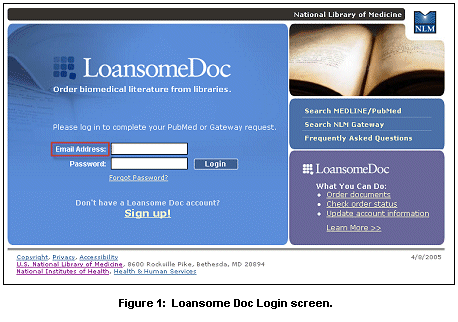 Ordering
The Place Order screen provides new functionality in a clean layout designed to make it easy to read and to emphasize significant data elements (see Figure 2). Several key features are highlighted by numbers in Figure 2 with their corresponding explanations listed below.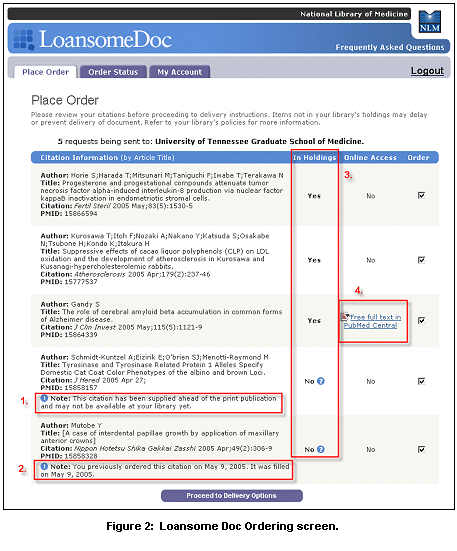 An alert note displays if the citation is not yet available in print, which happens frequently when publishers supply the citation to PubMed ahead of the publication. The item may be available electronically - check with your library about ordering these items.
An alert note displays if you previously ordered the citation in the last 40 days. The message shows the current status of the previous order.
The Holdings column indicates whether your library reports owning the journal title. Depending upon your library's policy, your request may not be filled or the library may obtain the item for you through interlibrary loan if holdings indicate No. Additional charges may apply if the item is obtained through interlibrary loan. Please ask your library if you have any questions about a particular item.
The boxed message indicates that the article is available online for free. Click the link to view the full text article. Click on the check in the order box to eliminate the citation from your order now that you know you can use the free link instead. (For more information about the free full-text links, see New Icons in PubMed® Indicate Free Full Text Available. NLM Tech Bull. 2003 May-Jun;(332):e6.
Order Status
To see the status of your order at any time, simply login and you'll be shown the Order Status screen (see Figure 3). You can sort your requests by request date, request number, or article title. The default sort is by article title. You can e-mail your library a question about an order by clicking the "Contact Library" link.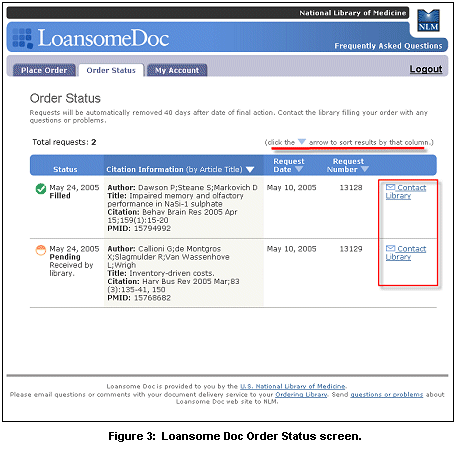 My Account
Update your address or ordering preferences by clicking on the My Account tab (see Figure 4). Click Edit to update account information. You may also change your ordering library, or register with additional libraries. Remember that you must contact the library prior to registering for service.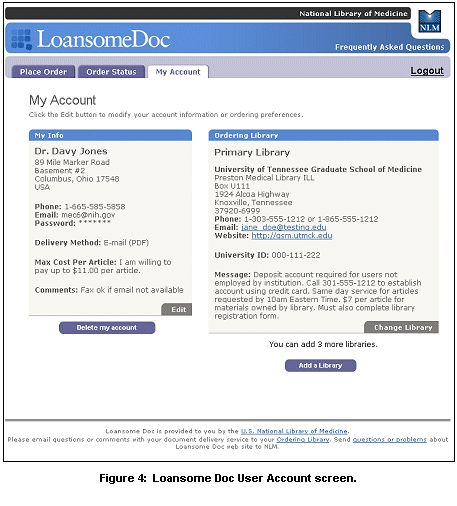 By Maria E. Collins
Collection Access Section


Collins ME. New Look for Loansome Doc®, NLM's Document Ordering System. NLM Tech Bull. 2005 May-Jun;(344):e9.