he Single Citation Matcher for PubMed will be enhanced with two new features:
First Author Search
Many users have asked us how to search for the first author of an article. We have, therefore, added this capability to PubMed. Next to the Author name box on the Single Citation Matcher screen there is now a check box, "Only as first author." First author searching uses data from the Author field, so use the lastname + initial(s) format to enter a name, then click in the "Only as first author" check box (see Figure 1).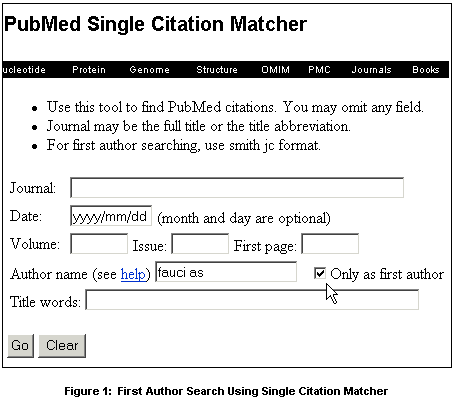 You can alternatively search by first author directly in the search box on PubMed screens. Enter an author name followed by the first author search tag, [1au] (read as: one-A-U) (see Figure 2).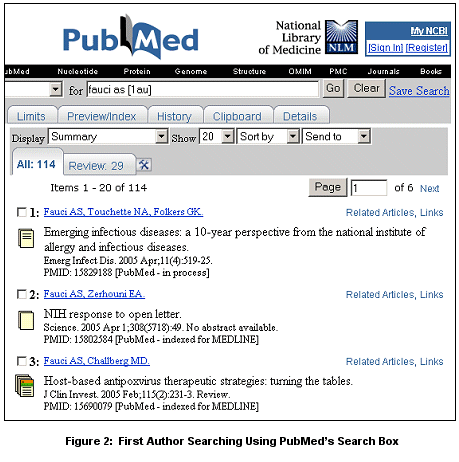 "First author" is a new PubMed index that is populated with the first author name from each citation. You can browse this index on the Preview/Index screen. Please note that this feature works with personal author names, not corporate author names.
Journal Name Autocomplete
An autocomplete feature has been added to the Single Citation Matcher box used for entering journal names. This feature will suggest titles as you enter a title abbreviation or full title (see Figure 3). When you see the title you are looking for, you can stop entering and select the title. Titles displayed by the autocomplete menu are in a ranked order based on the number of citations in PubMed. You do not have to select from the autocomplete list if you prefer to paste in a title or abbreviation copied from elsewhere.
Not Just for Verification
The Single Citation Matcher is a valuable tool for finding the citation for a particular article using title words or citation information, but it can also be used, e.g., to find an entire volume or issue of a journal, or to generate a bibliography by a first author. The Single Citation Matcher can be helpful to researchers and clinicians, as well as librarians.
By Annette M. Nahin
MEDLARS Management Section


Nahin AM. PubMed's® Single Citation Matcher Enhanced: First Author Search and Autocomplete for Journal Titles Added. NLM Tech Bull. 2005 May-Jun;(344):e3.