Citing Medicine, MLA 2008
A recording of this presentation is available.
Slide 1
Medical Library Association Annual Meeting
Chicago, IL
NLM Theater Presentation
May 18, 2008
Slide 2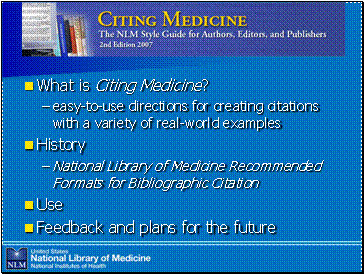 What is Citing Medicine?

easy-to-use directions for creating citations with a variety of real-world examples

History

National Library of Medicine Recommended Formats for Bibliographic Citation

Use
Feedback and plans for the future
Slide 3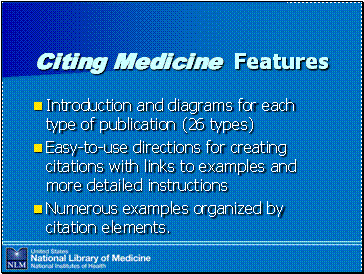 Citing Medicine Features
Introduction and diagrams for each type of publication (26 types)
Easy-to-use directions for creating citations with links to examples and more detailed instructions
Numerous examples organized by citation elements.
Citing Medicine incorporated user feedback from two previous publications. The two main objectives were to create easy-to-use directions for creating citations with a variety of real-world examples. Wherever there is a complete citation provided, it is a real example.
Slide 4
Citing Medicine lives on NCBI's Bookshelf. The URL is http://www.ncbi.nlm.nih.gov/books/bv.fcgi?call=bv.View..ShowTOC&rid=citmed.TOC&depth=2
The book's interface includes a table of contents with links to the Introduction, Foreword, Title Page, 26 chapters divided into 5 parts, and 7 appendixes. Each chapter is divided into one or more parts, each with 3 sections: Sample Citation and Introduction; Citation Rules with Examples; and Examples of Citations. The search engine allows users to search the entire full-text of the book. PDF versions of the chapters and appendixes are now available.
Slide 5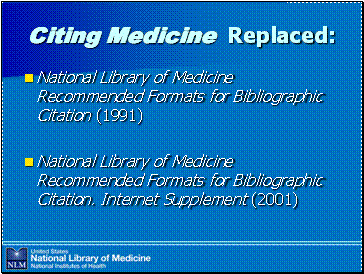 Citing Medicine Replaced:
National Library of Medicine Recommended Formats for Bibliographic Citation (1991)
National Library of Medicine Recommended Formats for Bibliographic Citation. Internet Supplement (2001)
We don't really like title changes, but in this case we did change the title - we wanted to be clear what this publication is for.
Slide 6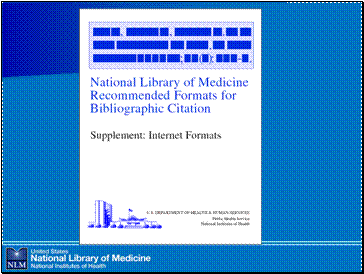 Cover image for National Library of Medicine Recommended Formats for Bibliographic Citation. Internet Supplement (2001). Does anyone recognize what the graphic represents?
Same image at the top as the original 1991 book, image was designed to illustrate the spacing and punctuation of a standard journal article citation (last name then initials for 3 authors, separated by commas between authors and a period after the last author. Space. Article title, ending in a period. Space. Journal title abbreviation, followed by a space, the year of publication, space, and month or season, ending in a semicolon. Volume, then issue in parenthesis followed by a colon. Finally, page number range (ending number just the last digit) ending in a period. At that time, NLM did not put a period after the journal title abbreviation – standards changed to include this period, then it was a while before NLM changed our database display.
Slide 7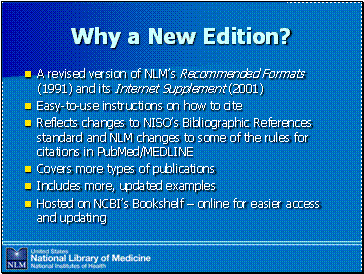 Why a New Edition?
A revised version of NLM's Recommended Formats (1991) and its Internet Supplement (2001)
Easy-to-use instructions on how to cite
Reflects changes to NISO's Bibliographic References standard and NLM changes to some of the rules for citations in PubMed/MEDLINE
Covers more types of publications
Includes more, updated examples
Hosted on NCBI's Bookshelf – online for easier access and updating
Punctuation and spacing, as well as order, are critical to bibliographic references and cause a lot of confusion. Original publication was produced due to constant demand – requests from students, authors, librarians, publishers, editors, and even the ICMJE. Original edition took about a year to produce, using standard word processing software [WordPerfect at that time]. Most style guides cover just about everything under the sun - footnotes, in-text references and bibliographies, creating chapter titles. NLM's publication focuses primarily on bibliographies, and only covers references.
Slide 8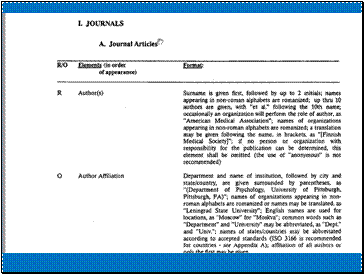 Top of page from the 1991 Recommended Formats showing the beginning of the section on Journal Articles. This 1 st edition formatted the information in 3 columns similar to ANSI and NISO standards. Elements such as Author(s) and Author Affiliation are listed in the center column in order of appearance in the reference, with an R or an O in the left column indicating if the element is optional or required. The column on the right provides the Format for entering the element information as a series of statements including element examples, such as the following for Author(s):
Surname is given first, followed by up to 2 initials; names appearing in non-roman alphabets are romanized; up thru 10 authors are given, with "et al." following the 10 th name; occasionally an organization will perform the role of authors, as "American Medical Association"; names of organizations appearing in non-roman alphabets are romanized; a translation may be given following the name, in brackets, as "[Finnish Medical Society]"; if no person or organization with responsibility for the publication can be determined, this element shall be omitted (the use of "anonymous" is not recommended)
Following the list of all the elements, a citation diagram and a few examples were provided for each common situation.
Slide 9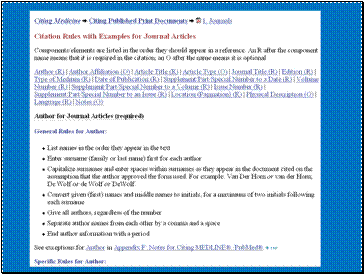 Beginning of the same information in the new Citing Medicine publication
Slide 10
Creating an online publication , meant to be kept up, is complicated!
The information life cycle consists of:
Author/process the content (Author, Edit, Mark up in Word, Proof, Revise)
Convert to XML – check all the links and other special formatting
Provide access / share (post to NCBI site, publicize)
Use (publishers, writers, librarians, etc).
Update (supervised by the Citing Medicine working group)
Eventually, archive.
Slide 11
If not following a bookmark or direct link on a page, two quick ways to get to the publication:
From PubMed choose All Databases, then Books, and scroll down the Book List
From the NLM Home page (http://www.nlm.nih.gov/), Expand the List of Databases, go to the Cs
Or an easy alias, just add "/ citingmedicine" after the ". gov" on NLM's homepage
Slide 12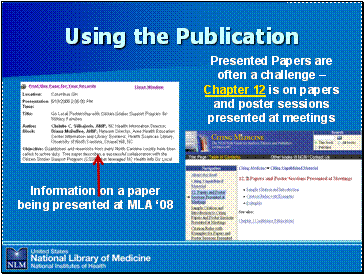 Presented papers are often a challenge: Chapter 12 is on papers and poster sessions presented at meetings
Example: Information on a paper presented at MLA '08
Say after this meeting you want to cite a paper or poster session, whether you attended the session or were the author
Slide 13
In this case I searched for "presented paper" and the results take me right to the chapter; results are actually found in 4 chapters, but the primary chapter is at the top
Slide 14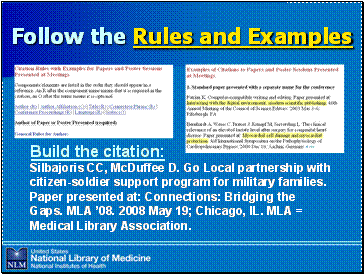 In this case the conference has a specific title, in addition to "MLA '08" so both conference titles are included – and depending on what you are citing this for, the reader may not know what MLA stands for so I have included a note at the end to explain the acronym.
Slide 15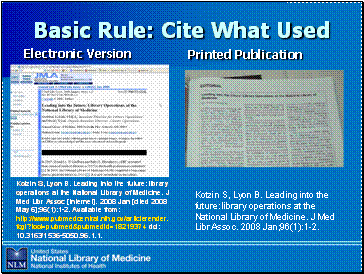 This isn't new, but people forget or use the easier citation format. A citation should be for the actual format used.
And an important rule for citing electronic materials, do not split the URL – let it break naturally, as it does here after a period ; do not add a space, hyphen, or other character within the URL. The doi isn't a required element, but I have included it here to show how it is treated as a note.
Slide 16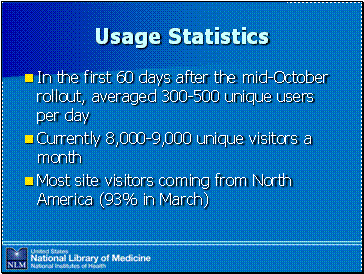 In the first 60 days after the mid-October rollout, averaged 300-500 unique users per day
Currently 8,000-9,000 unique visitors a month
Most site visitors coming from North America (93% in March)
Slide 17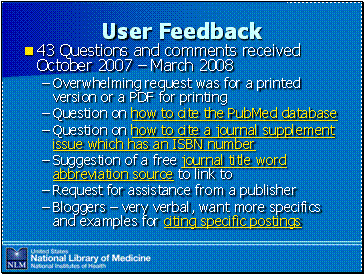 43 Questions and comments received October 2007 – March 2008
Overwhelming request was for a printed version or a PDF for printing
Question on how to cite the PubMed database
Question on how to cite a journal supplement issue which has an ISBN number
Suggestion of a free journal title word abbreviation source to link to
Request for assistance from a publisher
Bloggers – very verbal, want more specifics and examples for citing specific postings
PDF files for each chapter and appendix became available in February.
Some of questions we get the publication does answer, if you follow the links embedded here with the question. The suggestion made here will be incorporated into Appendix A in the future.
For information bloggers want – currently addressed in publication only in introductory section on Blogs, under Contributions to a Blog, and only 1 so-so example (under #30). Bloggers also don't like the use of the medium, Internet; feel redundant to say "blog on the Internet" that should just be the content type, blog, and everyone knows what that is. The bloggers did not contact us, but were very vocal in their blogs. We have added additional examples, however the medium is still necessary.
Other questions and suggestions also, such as how to site book reviews, and wanting more details and examples for different electronic versions of the same book or article (original publisher's source, manuscript, various archives, etc.).
Slide 18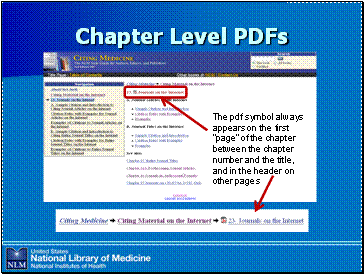 The pdf symbol always appears on the first "page" of the chapter between the chapter number and the title, and in the header on other pages.
Slide 19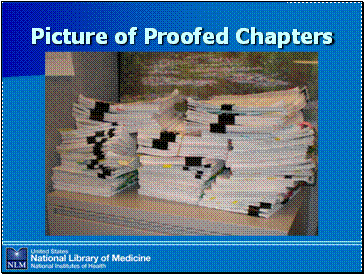 Picture of the hardcopy proofs for 26 chapters. Final publication is over 1700 pages (chapters 2 and 26 are the longest).
PDFs are now available at the chapter level, but still getting requests for a printed version. Length is one of the reasons not being printed. Other reasons are the linkages throughout, and the fact that publication is being updated periodically.
Slide 20
The Future
Implement procedures for updates/revisions of the content

ISO standard now under revision

ISO/CD 690 Guidelines for Bibliographic References and Citations to Information Resources

Add even more examples
Look at how users are using the publication

Will influence future changes
ISO/CD 690 - Guidelines for Bibliographic References and Citations to Information Resources being revised, potentially some changes
Streamlining and removing duplication will simplify NLM's maintenance work on the publication, but first we need to see how users are using the publication
Slide 21
Have a question, suggestion, or good example? From any page - Contact Us!
Slide 22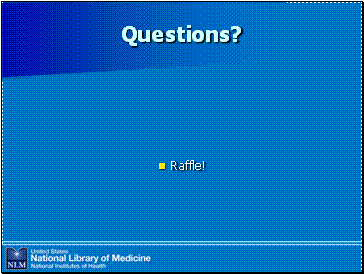 Last Reviewed: June 3, 2008