n October 2002, NLM utilized the services of OCLC Online Computer Library Center, Inc. to provide automated support for the major project to convert from Wade-Giles to pinyin romanization of Chinese characters in bibliographic records resident in Locatorplus.
After extensive testing and consultation with OCLC, NLM selected approximately 11,000 candidate bibliographic records and 7,500 related authority records for potential Wade-Giles to pinyin processing. The modified records were reloaded into Locatorplus on October 25-26, 2002.
To determine if a bibliographic record in Locatorplus has been fully converted to pinyin, click on the MARC VIEW tab and examine the full MARC 21 bibliographic record. Records fully converted to pinyin contain the MARC 21 field 987 subfield $a with the value "PINYIN" and the subfield $d with the value "c" (=converted) or "n" (=examined, no Wade-Giles present to convert). Records which require manual examination contain 987 subfield $a PINYIN and the subfield $d value "r".
In the MARC View display for the record for the Chinese title Kan zhong liu ben cao tu pu Locatorplus contains the MARC 21 987 coded "c", converted, and appears as: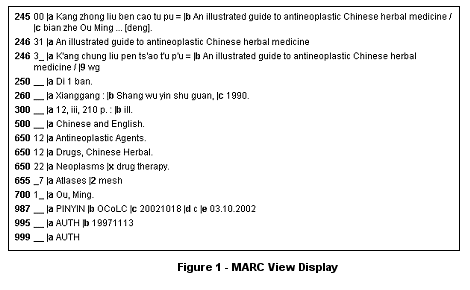 On November 1, 2002, NLM resumed distribution of newly completed records for Chinese language materials to all licensees of bibliographic records; these records were cataloged exclusively using pinyin romanization. However, until the manual review of earlier records has been completed, NLM will continue to block the Chinese language records completed prior to November 1 from distribution to CATFILE licensees.
On January 1, 2003, the block of Chinese language records will be removed for CATFILEPLUS licensees. Licensees of SERFILE continue to receive all records for Chinese language serials.
For further details on how the Wade-Giles to pinyin conversion will affect NLM's systems, see NLM Completes Major Milestone in Conversion from Wade-Giles to Pinyin Romanization of Chinese Characters in Bibliographic and Authority Records.
By Marti Scheel
Cataloging Section


Scheel M. Update on Conversion from Wade-Giles to Pinyin Romanization Scheme in Locatorplus. NLM Tech Bull. 2002 Nov-Dec;(329):e8.