ackground
In October 2004, NLM began to assign audiovisual (AV) accession numbers to non-print materials shelved in the General Collection. The format of the accession number for non-print monographs is the acquisition year (e.g., 2004, 2005) and the identifier "AV", followed by a four-digit accession number. An example of an AV accession number with this format is "2004 AV-0015." When present, accession numbers appear in the Holdings display of LocatorPlus (see Figure 1). Users of the NLM Catalog will notice these AV accession numbers when they link to LocatorPlus for NLM's holdings or look at the XML display to see the NLM call number that has been assigned to a title (see FAQ at http://www.ncbi.nlm.nih.gov/entrez/query/static/nlmcat_faq.html#nlmcallnofaq.)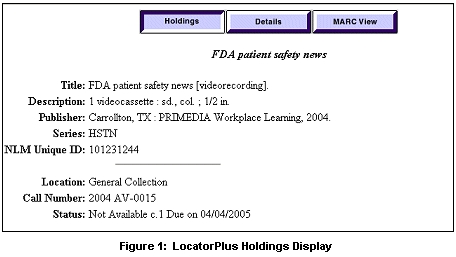 Following the practice in place for print monographs, when an accession number has been assigned to an audiovisual work, NLM also provides a suggested classification number. When a title is assigned an accession number because it is to be shelved in NLM's general stacks, suggested classification numbers appear in the MARC View of the LocatorPlus display. In such cases, there are two occurrences of MARC 21 field 060 in the MARC View of LocatorPlus (see Figure 2). The first occurrence, identified by MARC 21 indicator values of "00", contains the assigned AV accession number that is the number used to shelve the material in the NLM stack area. The second occurrence, coded with MARC 21 indicators of "10", contains the suggested classification number.
Suggested classification numbers for non-print materials do not include shelflisting (except for any appropriate geographic Table G Cutter that is considered part of the class number, e.g., the "DE2" portion of the call number in the example above). The rationale for this decision is that, since the NLM AV shelflist number is essentially itself an accession number (within a class and media), it is not helpful to other libraries where the acquisition order is likely to be quite different. In addition, being media-based, the format of NLM shelflist numbers for audiovisuals does not have any inherent intellectual meaning and does not support browsing the shelves.
Individual volumes of non-print serial analytics already classified in the W1 form number and added volumes of multi-part sets already in the classified call numbers are excepted from the new AV accession number scheme.1 Newly acquired non-print monographs to be shelved in NLM's Reference or History of Medicine collections do not receive an AV accession number and contain only a traditional call number and include media-formatted shelflisting.
Bibliographic records for non-print monographs in LocatorPlus may display new non-print accession numbers in addition to the alternative subject classification numbers in the MARC 21 field on citations created or maintained in the database, as well as in records distributed to licensees of Catfile and CatfilePlus, as of October 1, 2004.
Impact on Users of NLM's collection
Undertaken due to the closure of NLM's separate Learning Resource Center and the incorporation of only selected audiovisuals into the Reference collection at NLM, accession number shelving for non-print monographs is being implemented to maximize the Library's available storage space for these materials in the General Collection. Because NLM is a closed stack library, accession number shelving of audiovisuals is not expected to greatly affect users of NLM's general collection. When present, users should be sure to cite the AV accession number when requesting items on interlibrary loan.
---
1 In rare cases to conserve space, the NLM Preservation Section may move AV multi-part sets from the general stack area into the AV accession number shelving, as additional volumes are received.


By Alice E. Jacobs
Cataloging Section


Jacobs AE. Accession Number Shelving of Non-Print Materials. NLM Tech Bull. 2004 Nov-Dec;(341):e5.