he Index Section at NLM has been providing gene indexing for MEDLINE® citations since the summer of 2001. In gene indexing, the indexer creates links between MEDLINE citations and specific records in LocusLink. LocusLink, which was developed by the National Center for Biotechnology Information (NCBI), provides a searchable interface to curated sequence and descriptive information about genetic loci. It also includes information on official nomenclature, aliases, sequence accessions, phenotypes, EC numbers, MIM numbers, UniGene clusters, homology, map locations and related web sites. At the present time, there are six organisms in LocusLink - human, mouse, rat, fruitfly, zebrafish and HIV-1. Additional organisms will be added in the future.
Journal articles that focus on the basic biology of a gene or protein from one of the six organisms are candidates for gene indexing. Basic biology includes areas such as function, structure and genetics.
As indexers perform subject analysis of journal articles for Medical Subject Headings (MeSH® ) indexing, they look for information that is appropriate for linking to LocusLink. The indexer searches LocusLink for the gene or protein. If found, a link is created between the MEDLINE record and the LocusLink record. When creating the link, the indexer also provides a concise statement in the LocusLink record summarizing the new information about the gene or protein that is reported in the article. This statement appears in the GeneRIF (References into Function) data shown in the Function section of the LocusLink record.
Gene indexing is performed within a module of NLM's web-based Data Creation and Maintenance System (DCMS), the system used to create and index journal citations for MEDLINE.
Indexers create over six hundred links per week, and since the start of the project in the summer of 2001 they have created more than 18,000 links.
Users retrieving articles in PubMed® can go to LocusLink to learn more about the genes and proteins being referenced (see Figures 1, 2, 3, and 4 below). Links to LocusLink on PubMed citations can be viewed using the LinkOut display format from the Links pull-down menu (see Figures 1 and 2).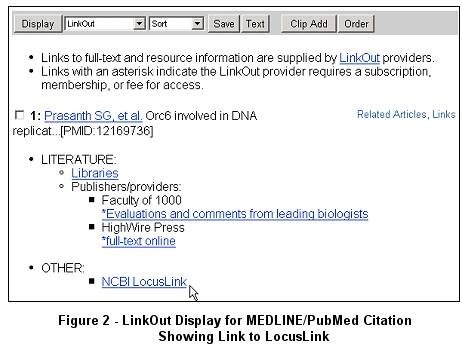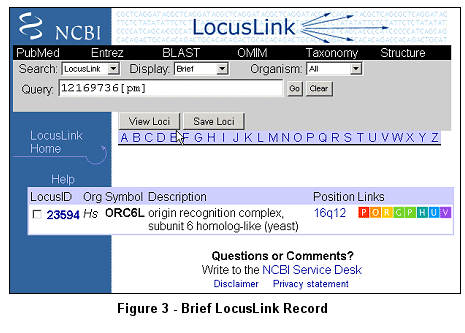 Click on the View Loci button to view a fuller LocusLink display including the GeneRIF information (see Figure 4).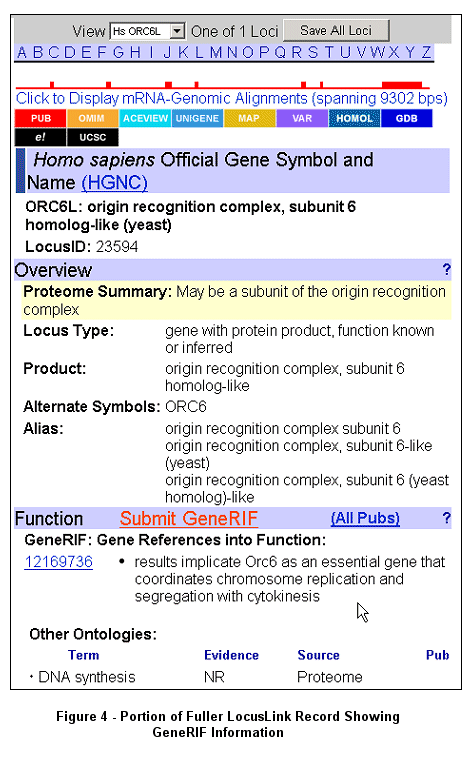 By Janice Ward
Index Section

Ward J. Gene Indexing. NLM Tech Bull. 2002 Sep-Oct;(328):e6.