LM has created a new Entrez database, the NLM Catalog. The NLM Catalog provides access to NLM bibliographic data for over 1.2 million books, journals, audiovisuals, computer software, electronic resources, and other materials via the National Center for Biotechnolgy Information (NCBI) Entrez retrieval system. The new database is an alternate search interface to the bibliographic records resident in LocatorPlus and supports automated mapping features and explosions of MeSH terms. The NLM Catalog is available from the PubMed homepage from the "Search" pull-down menu and from the sidebar. It is also a hyperlink under "Library Catalogs & Services" and "List of NLM Databases and Electronic Resources" on the NLM homepage.
Using the NLM Catalog
To begin searching, enter one or more search terms in the query box and press the Enter key or click Go. The Features bar beneath the query box provides access to additional search options. Search terms may be entered in upper or lower case. The NLM Catalog ignores most punctuation entered for searching.
Use the NLM Catalog to search for terms and then link to LocatorPlus for information about NLM holdings and item availability. The search features mimic, as far as possible, those available in PubMed, especially for searching of subjects that map to MeSH (see Figure 1), author names, and journal title abbreviations.
To search the primary subject or a term with a topical subheading, follow the format below:
| Search Type | Example |
| --- | --- |
| MeSH Major Topics | cancer [majr] |
| Term with Topical Subheading | cancer/ultrastructure |
Additional search indexes commonly used by searchers of bibliographic records are available for full author names, corporate/conference authors, and other identifiers such as ISSN and ISBN.
| Search Type | Example |
| --- | --- |
| Author Name | jacobs am |
| Full Author Name | miller scott d [fau] |
| Corporate Name | american cancer society [cn] |
| ISSN | 0028-4793 |
| ISBN | 0944235530 [other num] |
When search results are displayed, click on Details on the Features Bar to view the search as it was translated by the NLM Catalog.
The Summary (default) display includes, when present, author(s), title, edition, publication information, and NLM ID (see Figure 2). The NLM ID and the Links dropdown menu (see Figure 2) provide a link to the NLM holdings and item availability of the record in LocatorPlus, which appears in a new window. (Note: when you are finished viewing the record, close the LocatorPlus window and return to the NLM Catalog results).
Click on the title in the Summary display format (see Figure 2) to view the record in the Expanded display format (see Figure 3) that includes additional fields. This display may include:
Author(s)
Investigator(s)
Title(s)
Title abbreviation
Other title(s)
Translated Title
Continues (Preceding title)
Continued By (Succeeding title)
Series
Found in
Summary
Edition
ISBN
ISSN
Publisher
Publication Date(s)
Frequency
Description
Language
MeSH
Publication Type(s)
Substances
Person as Subject
Other subject(s)
Indexing History
Indexed in
Contents
Notes
Electronic Links
SuDocs Number
Report Number
NLM ID
type of resource/resource unit displays unlabelled following NLM ID
links to NLM LocatorPlus and, if included there, Bookshelf and PubMed Central®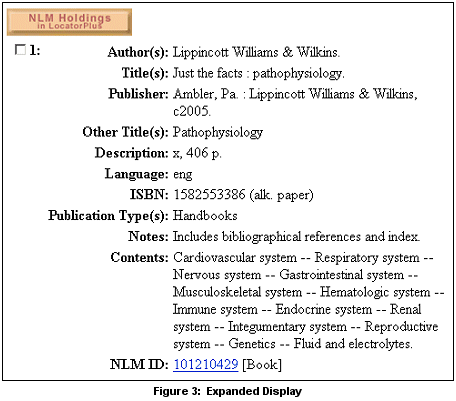 Alternatively, choose a display format (e.g., Expanded, Brief, Full, Subject, or XML) from the Display pull-down menu. See NLM Catalog Help for a full description of the display formats available.
Search results in the NLM Catalog are displayed in reverse publication date order, latest to earliest, except the most recent week's additions which appear at the top. Records that do not contain a date of publication sort at the bottom. Using the SORT pull-down menu, the user can sort the results by author, title, or NLM ID.
The Limits feature allows the user to restrict searches by language, material type (e.g., book, book chapter, journal, DVD-CDROM) or publication year. Users may also limit to titles in NLM's collection. Paralleling PubMed, there is a "Single Record Matcher" feature available from the NLM Catalog sidebar.
Difference between the NLM Catalog and LocatorPlus
LocatorPlus is the Web-based online public access catalog component of the Voyager integrated library system used at NLM. It is updated continuously and includes up-to-the minute information on NLM's holdings and an item's circulation status. Searches on names and titles incorporate authority headings and cross-reference structures. LocatorPlus also permits users to access authority records for cataloging purposes. LocatorPlus bibliographic and authority records are available for downloading in MARC 21 format.
Use LocatorPlus when:
You are interested in NLM's holdings or the circulation status of a title.
You are unsure of the exact name used by the author or organization responsible.
You wish to easily collocate all of the works of the same person or organization.
You are interested in NLM's authority records for personal, corporate, conference names, or titles.
You are interested in downloading the cataloging record in MARC 21 format.
The NLM Catalog is an alternative search interface to the records in LocatorPlus under the Entrez umbrella. As opposed to LocatorPlus, it is updated every weekday, not continuously. Records in the NLM Catalog are viewable and available for download in an XML format.
The benefits of the NLM Catalog are that it supports the explosion of MeSH terms and incorporates many automated search features of the Entrez retrieval system. In the NLM Catalog, it is possible to limit searches to a major subject concept and to identify the primary subjects in display of retrieved citations. Further, the NLM Catalog allows the searcher to quickly retrieve and combine searches which have large retrieval sets. Records in the NLM Catalog do not include information about NLM holdings and item status information; these data are only available through hyperlinks to LocatorPlus. Authority records for names and titles are not currently available in the NLM Catalog.
Use the NLM Catalog when:
You wish to use a search interface similar to that of PubMed.
You wish to explode MeSH terms.
You wish to use the automatic term mapping features of an Entrez database.
You wish to identify primary MeSH terms, in both searches and displays.
You are certain of the name of the author or organization and do not expect to need variant forms of names.
You are searching a known item and wish to use the "Single Record Matcher".
You wish to view more than one record at a time in one of a number of displays.
Your search is likely to retrieve over 10,000 citations.
You wish to view or use records in XML format.
Additional Information
For additional information about this database, see NLM Catalog Help and FAQs.
For information on the NLM Gatway searching the NLM Catalog please see: Technical Notes. NLM Tech Bull. 2004 Jul-Aug;(339):e1.
Look for articles on advanced searching techniques in future issues of the NLM Technical Bulletin.
By Alice E. Jacobs
Cataloging Section


Jacobs AE. New Entrez Database: NLM Catalog. NLM Tech Bull. 2004 Sep-Oct;(340):e2.