he LinkOut Display lists all links to related external Web-accessible resources for a PubMed or Entrez record. Users can access the LinkOut display by clicking "LinkOut" from the Links pull-down menu on the upper right corner. The LinkOut display is also available from the LinkOut selection of the Display pull-down menu. Please consult PubMed Help for additional information.
In the new LinkOut display (See Figure 1), the layout of the links is enhanced so that resources are easier to find. The listing of LinkOut libraries has been rearranged to help users get to their local library holdings quickly. Certain attributes of a link, such as a free resource, are represented by an icon. See Figure 2 for a legend of the LinkOut Display icons.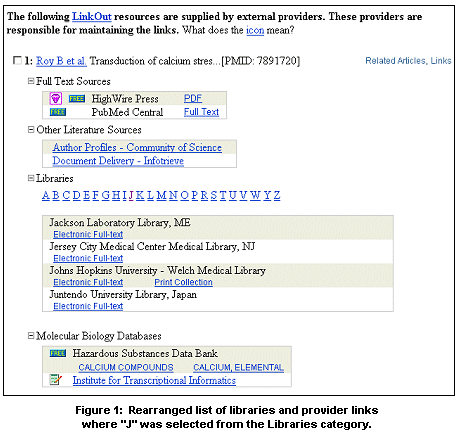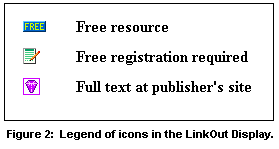 Please send your comments or questions to linkout@ncbi.nlm.nih.gov.
By Kathy Kwan
National Center for Biotechnology Information


Kwan K. New Look for LinkOut Display. NLM Tech Bull. 2004 Sep-Oct;(340):e9.