ver 140,000 Supplementary Concept Records (SCRs) will soon be added to the Entrez MeSH® database. The addition of these terms means the MeSH database now contains the full MeSH vocabulary. Unlike MeSH headings which are updated once a year, SCRs, can be added to the vocabulary at any time.
[Editor's Note: This enhancement was implemented in PubMed on October 14, 2004.]
Retrieval Display
These terms will display in search retrieval with the label [Substance Name]. The Summary format may include some notation information and the date the term was added to the MeSH vocabulary (see Figure 1).

The Full display may include the following additional data:
Registry Number(s)
Heading Mapped to (the MeSH heading applied to all records indexed with this substance name)
Entry Terms
Previous Indexing information

To see complete information for any term, use the link to the NLM MeSH Browser from the Links menu (see Figure 2).
Searching
The Entrez MeSH database serves as a tool for finding MeSH vocabulary terms, and should be searched one concept at a time.

Some substance names are long and "complicated." Please note also that when searching any Entrez database for a term with parentheses, e.g., 1,4-bis(chloromethyl)benzene, do not enter the parentheses (see Figure 3).

You may find the Suggestions provided with your search retrieval particularly helpful in locating terms for chemical substances.
In addition to searching directly for a term, you can browse in the Index (from the Preview/Index screen) to find searchable terms. Enter a term and click on the Index button. You can limit your browsing to terms from a particular field using the menu to the left of the entry box (see Figure 4).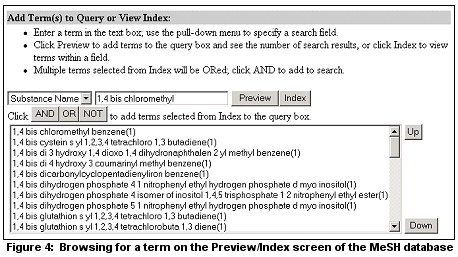 Limiting
Substance Name and Registry Number have been added as options on the Limits screen for the MeSH database (see Figure 5).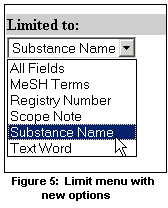 Terms from your search retrieval may be selected for searching in PubMed by using the check box next to each term along with the Send to Search Box feature. Or, when selecting one term for searching, you may use the link to PubMed on the Links menu to the right of each entry (see Figure 1).
Data displayed in the MeSH database is provided by NLM's MeSH Section. More information about the MeSH database can be found in the article, Canese K. New Entrez Database: MeSH. NLM Tech Bull. 2003 Mar-Apr;(331):e13. .
By Annette M. Nahin
MEDLARS Management Section


Nahin AM. Supplementary Concept Records (Additional Substance Names)Added to Entrez MeSH® Database. NLM Tech Bull. 2004 Sep-Oct;(340):e5.