October 03, 2011
[posted]
New U.S. SNOMED CT Content Request System
The beta version of the new U.S. SNOMED CT® Content Request System (USCRS) is now available (see Figure 1). This system allows SNOMED CT users to submit change requests to the content of SNOMED CT. Users log into the system using their Unified Medical Language System® (UMLS®) Terminology Services (UTS) user accounts. Visit the UTS site to sign up for an account if you do not already have one.
Figure 1: U.S. SNOMED CT Content Request System homepage.
Online forms allow users to enter ten different request types to add or change information in SNOMED CT concepts:
New concept (see Figure 2)
Add Parent
Change Description
Change Parent
Change Relationship
New Relationship
New Synonym
Retire Concept
Retire Description
Retire Relationship
Individual requests may be submitted online separately, or grouped together to form a batch. Users may save draft requests for later completion, validation, and submission.
Figure 2: New Concept online request form.
Users may also download the USCRS batch request template to submit multiple requests prepared offline. The template, in Excel® spreadsheet format, includes instructions for use, and a separate worksheet for submission of each of ten request types. Users upload their completed batch templates into the USCRS (see Figure 3), which generates tasks that users can then review, edit, validate, and submit.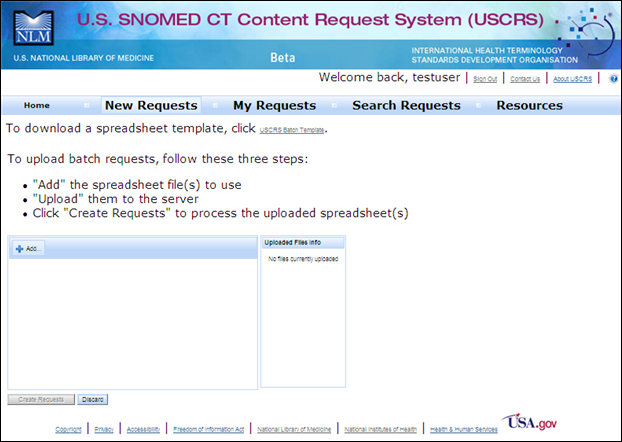 Figure 3: Upload USCRS Batch Spreadsheets.
Users may view their requests and track their progress through evaluation and, if accepted, eventual inclusion into either SNOMED CT International or the U.S. Extension to SNOMED CT. Users may search requests from other users for similar or identical requests (see Figure 4) and track statistics about their own use of the system. Each page of the USCRS contains a help link

to context-sensitive help documentation.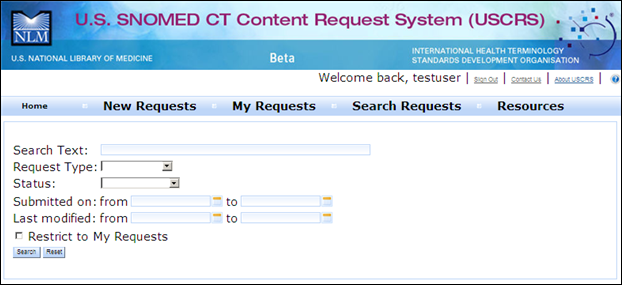 Figure 4: USCRS Search Requests screen.
An understanding of SNOMED CT content and structure is assumed, and a practical use case is required for each request. Every request must also include an identifier that links to the current version of either SNOMED CT International or the U.S. Extension to SNOMED CT. Both are available for download from the UTS. Users may search for SNOMED CT terms, ConceptIDs, and DescriptionIDs here using the NLM SNOMED CT Browser which is available from the UTS Applications menu.
The U.S. SNOMED CT Content Request System is an important new tool in the NLM effort to support the development, enhancement, and distribution of clinically specific vocabularies to facilitate the exchange of clinical data and improve retrieval of health information. SNOMED CT is one of a suite of designated standards for use in U.S. Federal Government systems for the electronic exchange of clinical health information and is also a required standard in interoperability specifications of the U.S. Healthcare Information Technology Standards Panel.
SNOMED CT was designated as a national standard for several purposes (problem list, public health reporting) in the initial certification criteria for EHRs issued by the Office of the National Coordinator for Health Information Technology. Recent recommendations from HHS advisory committees have proposed that SNOMED CT be the U.S. national standard for additional categories of information in EHRs and for additional health information exchange transactions. SNOMED CT has been chosen as the standard for selected data elements in international genetic information resources, including a Genetic Testing Registry and database of clinically significant human variations under development at NIH. It is also being used in an increasing number of clinical research studies.
Questions and comments about the USCRS beta launch should be sent to Contact NLM with the subject line "U.S. SNOMED CT Content Request System."

Willis J. New U.S. SNOMED CT Content Request System. NLM Tech Bull. 2011 Sep-Oct;(382):e10.