FAQ: LocatorPlus - Authority Records - $8 and $0 fields
---
Question: What information is contained in $8 and $0 fields in an NLM authority record?
---
Some programs or projects at NLM prefer not to use the AACR2 form of a name in their files. NLM is recording all variations of a heading used anywhere throughout the library in its authority file. The 1XX field of an authorized authority record still indicates the preferred AACR2 form of a heading, but records may contain cross references that indicate a preferred form for a particular library program, or a cross reference specific to a particular library program. NLM is using local MARC coding of $8 and $0 to identify cross references established for other internal programs.
$8 indicates the heading is the preferred form for the program whose initials appear in this subfield.
$0 indicates the heading is a variant form for the program whose initials appear in this subfield (and the heading is either not AACR2 compliant or has not been evaluated for AACR2 compliance)
The current programs and their codes are:
MedlinePlus -- mplus
Clinical Trials -- cltr
Profiles in Science -- prof
NICHSR -- nichsr
Below is an example of an authority record in LocatorPlus with the $8 cltr code for the Clinical Trials: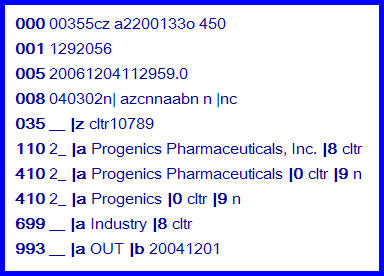 Fields that do not meet AACR2 guidelines for a cross reference contain a $9n, which keeps them from being distributed outside of NLM.
---
Related Questions:
---
Return to the top | Return to the list of FAQs
http://www.nlm.nih.gov/services/lpauthority_8_0_fields.html