January 16, 2003 [posted]

The National Center for Biotechnology Information (NCBI) offers two courses for library staff seeking to establish bioinformatics support programs.

A three-day Introduction to Molecular Biology Information Resources is designed for staff who have little or no experience with molecular biology databases and search systems, and who handle occasional questions about those resources at the reference desk. Course dates, prerequisites, topics covered, and a registration form are available from the NCBI Web site.

A five-day NCBI Advanced Workshop for Bioinformatics Information Specialists is designed for staff with a science background who have full-time bioinformatics support positions. This includes bioinformatics librarians as well as scientists who have been hired by libraries to establish training and user support programs. Applicants must already have some experience with molecular biology databases and software programs. Course dates, prerequisites, topics covered, and an application form are available from the NCBI Web site.

top of page



January 16, 2003 [posted]

The January 2003 editions of the training manuals are now available for downloading from the NLM Web site. The workbooks were updated to reflect changes since August 2002 and have been restructured for the new training class format (see NLM Online Training Program: 2003. NLM Tech Bull. 2002 Sep-Oct;(328):e8). The manuals are available for downloading in Portable Document Format (PDF) and Microsoft® (MS) Word formats. They are broken down into sections so you can choose the areas of interest to you. These materials correspond to the NLM's National Training Center and Clearinghouse training courses described at: http://nnlm.gov/mar/online/description.html

Lecture guides used in training on Toxicology and Environmental Health Web Resources (i.e., TOXNET® and ChemIDplus) are also available from this Web site.

These workbooks are not copyrighted. Feel free to use any part of the workbooks - you may customize parts for training programs, demonstrations, or workshops you conduct.

top of page



February 03, 2003 [posted]

The Links menu on PubMed retrieval will soon have a new look. Help is now a link from the ? at the top of the menu. (See Figure 1.)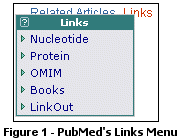 This change also allows the menu to appear on all citations. Previously, links did not display as a menu after the first 50 citations on a page.
[Editor's Note: This feature was added to PubMed on February 4, 2003.]

top of page



February 13, 2003 [posted]

[Editor's note added on May 20, 2010: Go Local hyperlinks have been removed. For more information see NLM® to Discontinue Support of MedlinePlus® Go Local.]

MedlinePlus has taken the first step towards bridging the gap between health information and local health services by introducing the "Go Local" pilot project. Users can "go local" from any health topic to North Carolina health services via The University of North Carolina at Chapel Hill's NC Health Info. NC Health Info contains selected web links to answer consumer questions such as:
Where does a support group for Alzheimer's caregivers meet in Charlotte?
Are there any smoking cessation workshops in Mecklenburg County?
How do I get a flu shot in Wake County?
Additional "Go Local" states will be added to MedlinePlus in the future. More information on the project is at [link removed].

top of page



February 13, 2003 [posted]

The 2003 issue of theList of Journals Indexed in Index Medicus (LJI) will include additions and revisions to the subject headings used to describe the titles currently indexed in Index Medicus. These headings appear in the subject headings section at the back of the List of Journals Indexed in Index Medicus, and in LocatorPlus as "other subjects" on the details screen and as data in the 698 field in the MARC record.

Four new headings have been added:
Botany
Complementary Therapies (will include Alternative Medicine and Traditional Asian Medicine)
Neoplasms
Women's Health
Eight headings will no longer be used:
| Replaced Heading | Replaced with |
| --- | --- |
| Cytogenetics | Genetics |
| Genetics, Biochemical | Molecular Biology |
| Medical Oncology | Neoplasms |
| Medicine, Oriental Traditional | Complementary Therapies |
| Neoplasms, Experimental | Neoplasms |
| Neurosciences | Neurology |
| School Health Services | Health Services |
| Sociology | Social Sciences |
In addition, the heading Ethics will be used instead of Ethics, Medical, and the heading Reproductive Medicine will be used instead of Reproduction.

top of page



February 13, 2003 [posted]

The online National Library of Medicine Classification, available at: http://www.nlm.nih.gov/class, was issued in a newly revised edition on February 4, 2003. This revision incorporates all corrections of typographical and other errors discovered since October 2002. Additionally, all existing entries in the Index that were changed in the 2003 edition of MeSH have been replaced in accordance with the new terminology.

Another revision, now planned for Spring 2003, is slated to include the incorporation of new Index headings resulting from MeSH terms added to the 2003 vocabulary and selected for addition to the Index.

Requests for further information, questions, or comments should be addressed to: custserv@nlm.nih.gov .

top of page



February 14, 2003 [posted]

The "UMLS Basics" course is again being offered at NLM in 2003. There are no prerequisites for the course but students should be familiar with MeSH and controlled vocabularies (especially thesaurus conventions and hierarchical arrangements). Attendance at this class is awarded 7.5 Medical Library Association continuinge education credits available.
| Class Dates | Location |
| --- | --- |
| Monday, March 17 | NLM, Bethesda, MD |
| Friday, April 11 | NLM, Bethesda, MD |
| Monday, June 16 | NLM, Bethesda, MD |
| Monday, September 15 | NLM, Bethesda, MD |
Register with the National Training Center and Clearinghouse.
Class description: This 7.5-hour, hands-on course introduces NLM's UMLS: what it is and how it is used. Students gain an understanding of the three main components--the Knowledge Sources: Metathesaurus, Semantic Network, and SPECIALIST Lexicon--and what these are and how these and related tools are used in a variety of biomedical applications and research. A broad overview of the 100-plus source vocabularies contained in the Metathesaurus is provided. Criteria for assessing the usefulness of specific controlled vocabularies for clinical, research, and educational purposes are discussed. The UMLS Knowledge Source Server (UMLSKS), available on the Web, is used to access UMLS data throughout the class. Hands-on exercises allow students to practice basic and advanced searching skills. Some experience is provided with the software program called MetamorphoSys that is used to produce customized local versions of the Metathesaurus useful for particular applications. The intended audience is medical librarians and other information specialists who desire an introduction to the UMLS and an understanding of the issues and practical considerations involved in selecting and using appropriate controlled vocabularies for a range of biomedical applications.

top of page



February 28, 2003 [posted]

The National Heart, Lung, and Blood Institute (NHLBI) has issued a new Clinical Alert:

A study of long-term, low-dose warfarin to prevent the recurrence of the blood clotting disorders deep vein thrombosis (DVT) and pulmonary embolism resulted in such a high degree of benefit to the patients — without significant adverse effects — that the National Heart, Lung, and Blood Institute (NHLBI) of the National Institutes of Health has stopped the study early.

Links to Clinical Alerts can also be found from these NLM Web sites:
MedlinePlus features Clinical Alerts as NIH Press Releases on the appropriate Health Topics page(s) and also on the front page under "Current Health News."
As before, PubMed and the NLM Gateway have a link to the Clinical Alerts on their side bars. In addition, a featured link will now be available from their Home Page for 10 days after a new alert is issued.

top of page