ubMed for Handhelds has a new feature to search MEDLINE/PubMed via PICO.
PICO, which stands for Patient/Problem, Intervention, Compared to, and Outcome, is a method used for structuring clinical questions. This format can also be used for structuring literature searches and may be helpful to those interested in evidence-based medicine1.
A PICO feature is available on the main screen of PubMed for Handhelds ( http://pubmedhh.nlm.nih.gov) and uses a fill-in-the-blank and menu format (see Figure 1). Comments about this feature are welcomed and can be sent to NLM using the "Feedback" link at the bottom of this screen.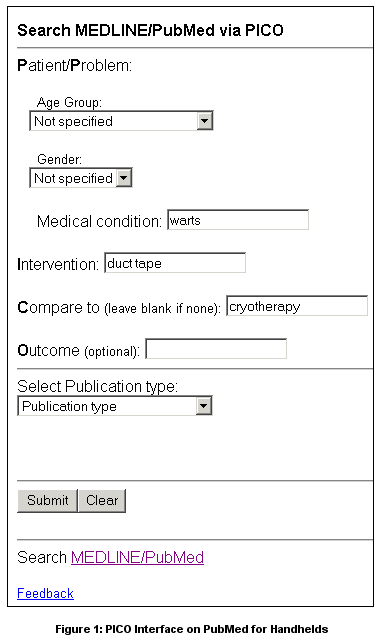 To read more about PubMed for Handhelds, please see Stetson JS. PubMedŽ Available for Use on Handheld, Wireless Devices. NLM Tech Bull. 2003 Jul-Aug;(333):e5.
1 Booth A, O'Rourke AJ, Ford NJ.
Structuring the pre-search reference interview: a useful technique for handling clinical questions.
Bull Med Libr Assoc. 2000 Jul;88(3):239-46.
PMID: 10928709 [PubMed - indexed for MEDLINE]

PubMed® for Handhelds Offers Searching via PICO. NLM Tech Bull. 2004 May-Jun;(338):e9.