Media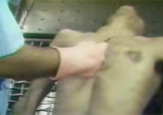 Autopsy
WARNING: Some people may find images from actual postmortem dissections disturbing. Viewer discretion advised.
Postmortem dissection, or autopsy, was among the first scientific methods to be used in the investigation of violent or suspicious death. Autopsy remains the core practice of forensic medicine. The postmortem examiner surveys the body's surface, opens it up with surgical instruments, removes parts for microscopic inspection and toxicological analysis, and makes a report that attempts to reconstruct the cause, manner and mechanism of death. These training film clips show some of the procedures of postmortem examination.
Beginning an autopsy
New York University Medical Center, The Forensic Autopsy (New York, 1978). Videorecording. National Library of Medicine. This video, part of a multi-volume series of forensic medical training films made under the direction of Dr. Milton Helpern, who had recently retired as Chief Medical Examiner of New York City, shows the beginning phase of the full autopsy, prior to analysis of the organs.
View the video
Read the transcript
Dissecting and analyzing the body parts
University of Calgary and the Office of the Alberta Attorney General, Investigating Sudden Death, vol. 1(Alberta, Canada, 1978–80). Videorecording. National Library of Medicine. This video, prepared by Val D. MacMurray, Attorney General, Alberta and John C. Butt, Chief Medical Examiner, Alberta, shows the procedures of forensic investigation and explains the logic behind the dissection and analysis of individual organs.