Gilbert J. Digital Collections Improves Access to Digitized Texts with Universal Viewer. NLM Tech Bull. 2021 Jul-Aug;(441):e5.
The National Library of Medicine (NLM) is pleased to announce the implementation of the Universal Viewer for examining the thousands of digitized texts on the Digital Collections web site. Universal Viewer is an open-source community-supported software developed by Digirati for the Wellcome Library and the British Library.
The NLM Digital Repository Working Group selected Universal Viewer after an in-depth software evaluation. Universal Viewer fits easily with the existing applications Digital Collections uses to present high-quality page images through the International Image Interoperability Framework (IIIF), Loris image server and Blacklight discovery layer.
The features within the viewer (see Figure 1) include single-page or two-page views, true-to-size page dimensions, table of contents/thumbnails, downloads, full screen toggle and full-text search.
Figure 1: "Be a cadet nurse" in the Universal Viewer.
Within the Universal Viewer, users can zoom in, zoom out and rotate the page images (see Figure 2). Settings that the user may define include enabling the navigator (arrow), two-page view, mouse click to zoom and preserve zoom.
Figure 2: Page zoom and navigation in the Universal Viewer.
Another feature available in the new viewer is search and retrieval of keywords (see Figure 3) at the page level, which takes advantage of the full indexing of texts in the Digital Collections repository.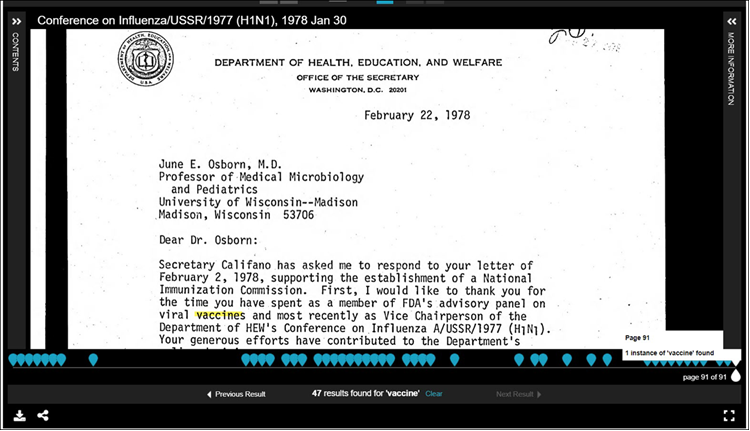 Figure 3: Keyword searching at the page level of text in the Universal Viewer.
NLM Digital Collections welcomes your comments, questions and suggestions. Contact us through NLM Customer Support.