Chan K., Dine B. & Widzer J. NLM Search Engine Results Display Redesigned. NLM Tech Bull. 2017 Jan-Feb;(414):e6.
On February 16, 2017, the National Library of Medicine (NLM) released a new design for its main Web site search engine results page. The new design is responsive and is a result of usability testing, analytics, and user feedback. Searches for health topics will feature a MedlinePlus result on the right (see A in Figure 1). Search results from PubMed and the LocatorPlus catalog record will display separately, also on the right (see B and C respectively in Figure 1). Searches for an NLM product or service will highlight a curated result in the "NLM Recommended Resources" box (see Figure 2).
Figure 1: Highlighted results for MedlinePlus, PubMed, and LocatorPlus catalog.
The facets have been combined into four basic categories and now can be found above the results display (see Figure 2). They include:


Health Information: MedlinePlus encyclopedia pages, drug monographs, health topic pages, supplement pages, and MedlinePlus Magazine pages.
Programs and Services: NLM main Web site pages including NCBI and SIS.
Exhibits and Collections: History of Medicine Division exhibition sites and the Digital Collections records.
Web Archives: older Web pages from the NLM main Web site.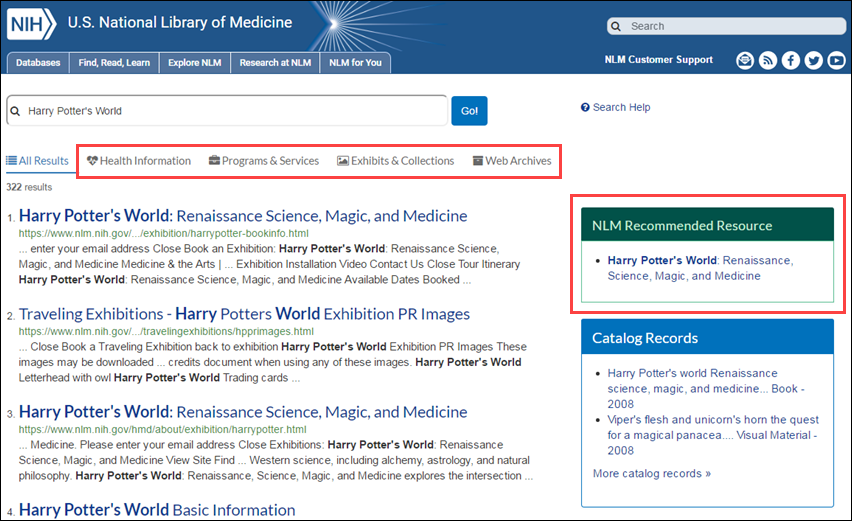 Figure 2: Search facets and NLM Recommended Resource results.